Trump Told A Hurricane Florence Survivor To "Have A Good Time" And Yep, There's Video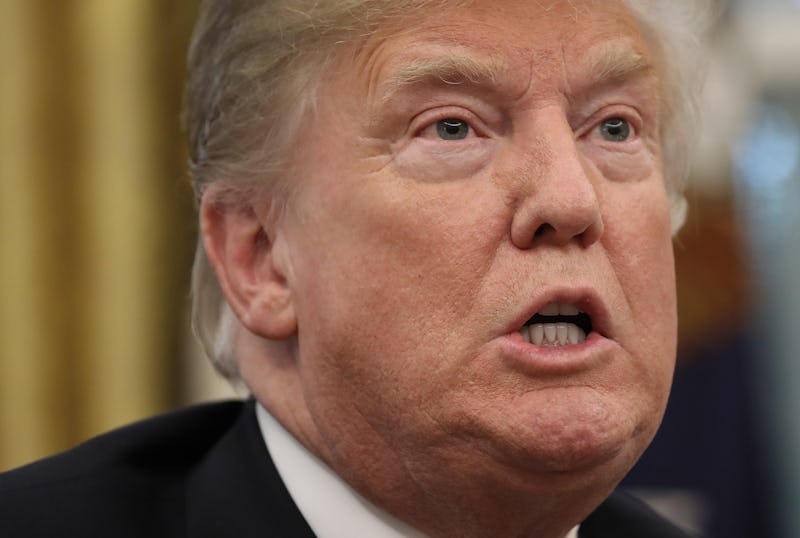 Win McNamee/Getty Images News/Getty Images
Ever since Hurricane Florence hit the East Coast, President Donald Trump has issued quite a few statements. From cautioning locals about the intensity or "wetness" of the storm to more recently telling a Hurricane Florence survivor to "have a good time," Trump has made airwaves in the media for his selection of words while speaking about the hurricane.
The suggestion to "have a good time" came after Trump visited North Carolina on Wednesday. Authorities have reported that at least 37 people have been killed since the hurricane hit the region. In a video clip shared by New York Magazine, Trump was seen offering survivors lunch boxes as people waited in lines to receive their portions. According to the publication, Trump told a survivor, "Got it? Have a good time." NowThis News also tweeted a video clip of Trump giving the remark. It was such an eyebrow-raising remark that an off-camera MSNBC journalist said, per New York Magazine, "I think he just said, 'Have a good time!'"
It wasn't the first time that the president told somebody from a storm-ravaged area to enjoy himself or herself. After Hurricane Harvey hit Texas in 2017, Trump said, "Have a good time, everybody." For reference, the president was leaving an emergency shelter when he made that comment. During his visit in Texas last year, Trump also said, "It's been a wonderful thing. As tough as this was, it's been a wonderful thing, I think even for the country to watch it and for the world to watch. It's been beautiful."
New York Magazine reported that Trump had also asked how Lake Norman was doing after Hurricane Florence during a briefing on Wednesday. An official informed the president that the lake was fine. Here, Trump said, "I love that area. I can't tell you why, but I love that area." For what it's worth, The Trump National Golf Club in on the shore of the lake.
That wasn't all. Trump also engaged in conversation with residents in North Carolina on Wednesday, and according to The New York Times, the president pointed at a yacht that was shipwrecked against a house and asked the homeowner, "Is this your boat?" The man said no. To this, the president said, "At least you got a nice boat out of the deal." In another case, Trump asked locals, "Hi, everybody, how's your house?"
The Times described Trump's sense of humor that day as "sardonic." As he spoke with the press, Trump also said that the homeowner he previously spoke to was concerned whether his insurance company would cover his damaged house. According to The Times, Trump announced, "We're going to find out the name of the insurance company. They don't know whose boat that is. What's the law? Maybe it becomes theirs."
The president also assured North Carolina residents that the devastation they had witnessed due to Hurricane Florence would be promptly fixed. "We've got everything laid out," Trump said. "A lot of money coming from Washington."