Trump Tweeted About The Kavanaugh & Ford Hearings To Say This Is "Why I Nominated Him"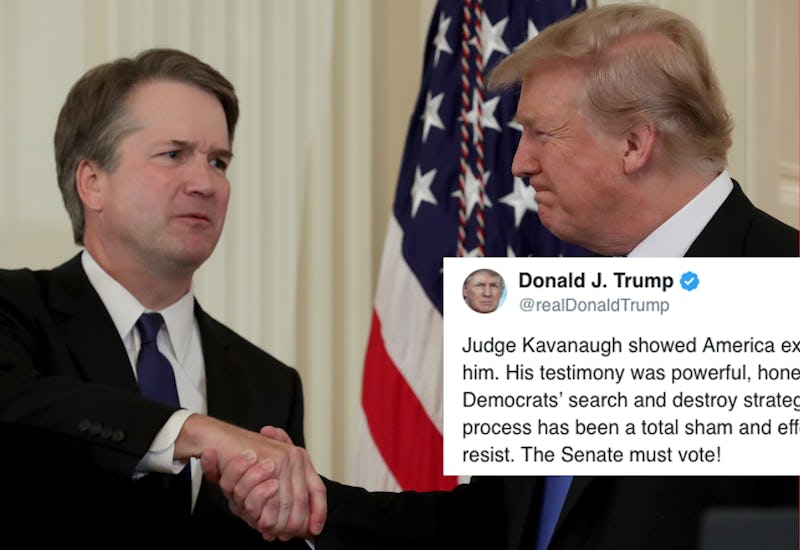 Chip Somodevilla/Getty Images News/Getty Images
Dr. Christine Blasey Ford and Judge Brett Kavanaugh each gave testimony Thursday about the sexual assault allegations Ford has made against the Supreme Court nominee. That evening, President Trump tweeted about the Ford and Kavanaugh hearings and said that his nominee's testimony "showed America exactly why I nominated him."
Right after the hearing concluded, Trump wrote,
Judge Kavanaugh showed America exactly why I nominated him. His testimony was powerful, honest, and riveting. Democrats' search and destroy strategy is disgraceful and this process has been a total sham and effort to delay, obstruct, and resist. The Senate must vote!
Ford has accused Kavanaugh of attempting to sexually assault her while the two were in high school. Kavanaugh has denied the allegations. After Ford spoke out, two other women, Deborah Ramirez and Julie Swetnick, also came forward with accusations against Kavanaugh. Ramirez alleged he exposed himself to her in college, and Swetnick claimed he was part of a group of boys who drugged girls drinks and participated in "gang rapes." Kavanaugh has denied both of those allegations as well.
During his testimony, Kavanaugh was visibly upset and made a similar statement to Trump's tweet, saying that the allegations against him were just an "orchestrated political hit" that was "fueled by pent-up anger" over the 2016 election.
"This whole two-week effort has been a calculated and orchestrated political hit, fueled by pent-up anger over President Trump in the 2016 election, fear that has been unfairly stoked about my judicial record, revenge on behalf of the Clintons, and millions of dollars in money from outside left-wing opposition groups," Kavanaugh said.
Trump had previously tweeted about Ford, saying that if her allegations were "as bad as she says," she would have reported it to the police. This sparked the hashtag #WhyIDidntReport, as survivors around the world explained what prevented them from coming forward.
"I have no doubt that, if the attack on Dr. Ford was as bad as she says, charges would have been immediately filed with local Law Enforcement Authorities by either her or her loving parents," Trump wrote. "I ask that she bring those filings forward so that we can learn date, time, and place!"
Trump was meant to hold a meeting Thursday with Rod Rosenstein, the embattled deputy attorney general whose future with the Department of Justice is reportedly under review. However, Trump decided to postpone that meeting until next week so that it did not "interfere with the hearing," Press Secretary Sarah Huckabee Sanders said.
The Senate Judiciary Committee is scheduled to vote Friday on whether or not to recommend that Kavanaugh be confirmed. If the committee decides to approve Kavanaugh as the Supreme Court nominee, the vote would then move to the entire Senate. Democrats hope to delay this vote to further investigate Ramirez and Swetnick's allegations. However, Republicans might follow Trump's line of thinking, as he wrote: "The Senate must vote!"