Trump's Latest Tweet Backing Kavanaugh Accuses Democrats Of Trying To "Destroy" Him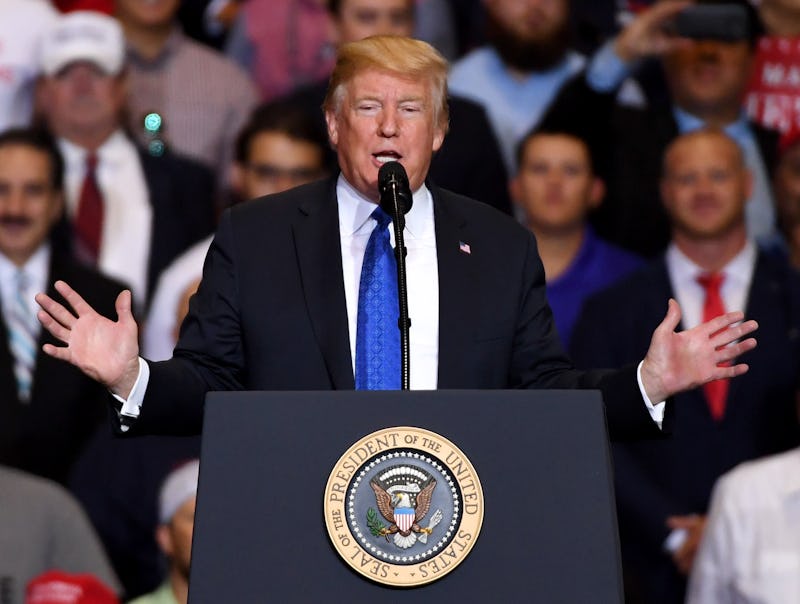 Ethan Miller/Getty Images News/Getty Images
As the final vote for Brett Kavanaugh's confirmation looms, the president has doubled down on his support of the Supreme Court nominee. Trump tweeted Kavanaugh could be one of the "greatest" Supreme Court justices ever in a tweet on Monday evening. And in addition to complimenting Kavanaugh, he attacked "the Democrats" for what he claimed was an effort to "destroy a wonderful man" with "an array of False accusations the likes of which have never been seen before!"
Trump's continuous support for Kavanaugh comes at a time when the nominee seems to be getting very little support from other angles: A recent NBC/Wall Street Journal poll revealed that Kavanaugh is the least popular Supreme Court nominee among the general public in at least 30 years, including two who have failed. Additionally, several senators who were reportedly on the fence over Kavanaugh's appointment have announced their intention to vote no on his confirmation.
What's more, Kavanaugh is currently facing sexual assault allegations from multiple women, though he has maintained that he has never sexually assaulted anyone. In a Fox News interview with Martha MacCallum on Monday evening, Kavanaugh said,
The truth is I've never sexually assaulted anyone, in high school or otherwise. I am not questioning and have not questioned that perhaps Dr. Ford at some point in her life was sexually assaulted by someone at some place, but what I know is I've never sexually assaulted anyone.
During his interview, Kavanaugh confirmed that Trump was supporting him in private as well. He said to MacCallum, "I know he's going to stand by me. He called me this afternoon, and he said he's standing by me."
Trump has supported Kavanaugh on multiple occasions, though his style of support has ranged from benevolent to aggressive. On Monday morning, Trump said on WTAM radio, "I want [Christine Blasey Ford] to have her voice. Let her have her voice. Let her say whatever she has to say. Let him say what he has to say. And in the end senators will make their choice."
In contrast, on Sept. 21 Trump tweeted, "I have no doubt that, if the attack on Dr. Ford was as bad as she says, charges would have been immediately filed with local Law Enforcement Authorities by either her or her loving parents. I ask that she bring those filings forward so that we can learn date, time, and place!"
Other members of the GOP are continuing to hold strong on Kavanaugh as well. This is in spite of increasing cries that the Senate Judiciary Committee delay the vote on Kavanaugh until the sexual misconduct allegations are investigated, or even that the committee drop Kavanaugh's nomination altogether.
Senate Majority Leader Mitch McConnell said on the Senate Floor on Monday that the Senate will hold a vote on Kavanaugh in the very near future, in spite of allegations coming to light as recently as Sunday. He said, "I want to make it perfectly clear ... Judge Kavanaugh will be voted on here on the Senate floor. Up or down on the Senate floor. This fine nominee to the Supreme Court will receive a vote in the Senate in the near future."
Kavanaugh is set to appear before the Senate Judiciary Committee on Thursday, immediately following Christine Blasey Ford, who will appear before the committee first.
In a letter to Chairman Chuck Grassley that was released earlier on the same day of Kavanaugh's Fox News interview, Ford wrote, "While I am frightened, please know, my fear will not hold me back from testifying and you will be provided with answers to all of your questions. I ask for fair and respectful treatment."