Trump Already Has Someone In Mind To Replace RBG, According To A New Report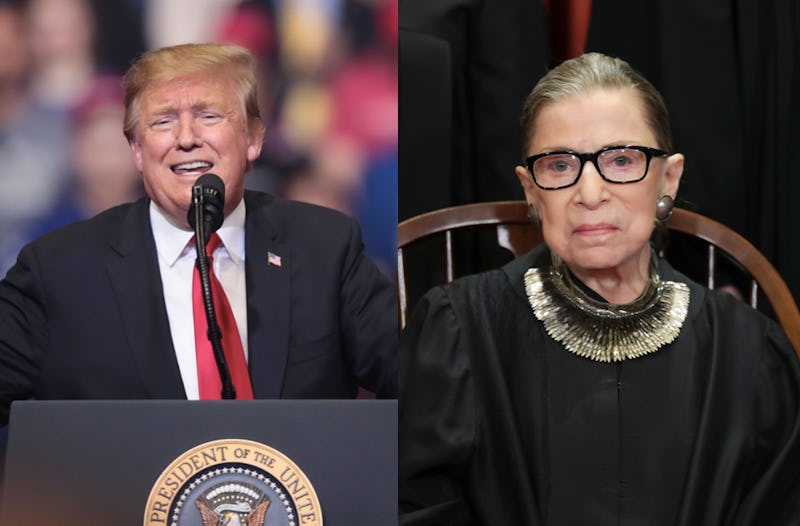 Scott Olson, Chip Somodevilla/Getty Images News/Getty Images
One prominent female federal judge was reportedly on President Trump's short list to replace Supreme Court Justice Anthony Kennedy last year. He chose Brett Kavanaugh instead. Now, Axios reports that woman may be headed to SCOTUS after all. Trump is reportedly "saving" Judge Amy Barrett to replace Justice Ruth Bader Ginsburg.
Axios based its report on the word of three anonymous insiders who are familiar with the president's private comments. He reportedly made such an assertion — that Barrett would be tapped when Bader Ginsburg's seat opened up — in the days leading up to announcing Kavanaugh's nomination in July.
Barrett's name was in the media before Kavanaugh was tapped. Her views on abortion, in particular, were scrutinized. She has questioned whether federal courts should decide the matter. "Does the court have the capacity to decide that women have the right to obtain an abortion, or should it be a matter for state legislatures?" Barrett said at Notre Dame Law School lecture. "Would it be better to have this battle in the state legislatures and Congress rather than the Supreme Court?"
Barrett's comments are loaded. In many states, only the Supreme Court ruling Roe v. Wade guarantees a woman's right to a legal and safe abortion. According to the Guttmacher Institute, 18 states actually have laws already on the books that would ban or restrict abortions in the absence of Roe. Only 10 states have laws that protect the right to an abortion at the state level.
Barrett would be Trump's third justice appointed to the Supreme Court, and all are at least suspected of having controversial, conservative views on abortion. Some argued that Kavanaugh's views became clear after he wrote a dissent in an abortion case SCOTUS saw that could have left just one doctor in the whole state of Louisiana able to perform abortions. The law was struck down 5-4. Gorsuch also dissented, further cementing his anti-abortion views.
Barrett, though, would be in other ways a less controversial appointment than those two. Kavanaugh was confirmed in October after it became public that Dr. Christine Blasey Ford had accused him of sexual assault while the two were in high school. Kavanaugh denied the accusations, testified in front of the Senate Judiciary Committee again denying he had done so, and was confirmed 50-48 in the Senate.
Gorsuch, Trump's first appointment to the Supreme Court was also controversial, though for a different reason. The opening was originally to be filled by President Barack Obama, but then Senate Republicans refused to hold hearings on Obama's pick, Merrick Garland.
According to Axios, one of the reasons Trump waited on Barrett was that he didn't think that some pro-choice Republicans would vote for her, particularly Sens. Susan Collins and Lisa Murkowski. Some advisers had told the president if he picked up Senate seats in the midterms (which he did), it would be easier to later confirm Barrett.
All this only matters if Ginsburg's seat opens up. She is highly unlikely to retire while Trump is in office (she publicly disparaged him before he won the White House). She's 86 and has beaten back cancer several times — not to mention her broken ribs last year. But she seems dedicated to her work and unlikely to go anywhere.
If RBG did call it quits, though, Trump reportedly has a plan.