Trump Wants The DOJ To Get To The Bottom Of That Anonymous 'NY Times' Op-Ed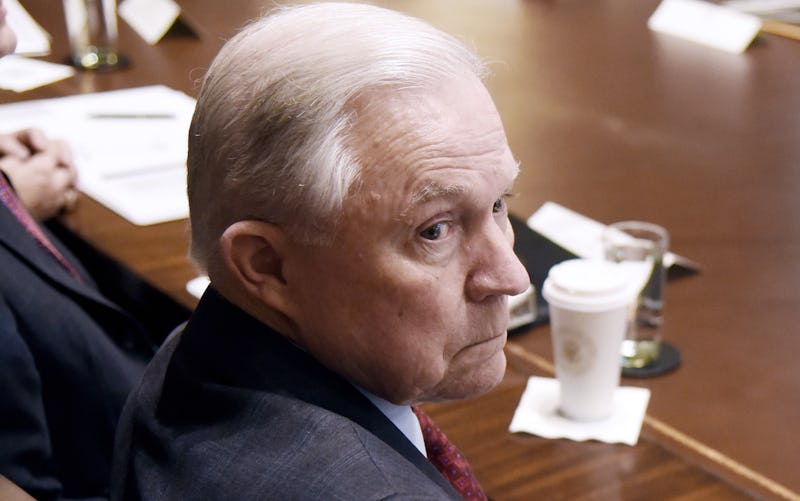 Pool/Getty Images News/Getty Images
Just about everyone in Washington D.C. has become obsessed with identifying the author of the anonymous New York Times op-ed published earlier in the week, and President Trump is no exception. While speaking to reporters Friday, Trump said that Jeff Sessions should investigate the anonymous author's identity, as he believes that identifying the Trump administration official behind the piece is a matter of "national security."
In the bombshell op-ed, an individual identified only as a "senior official in the Trump administration" writes that they and a handful of others have been "working diligently from within to frustrate parts of [Trump's] agenda and his worst inclinations." But despite widespread speculation and theorizing by amateur sleuths, there are precious few clues as to who penned the piece.
Trump, naturally, wants to find out who it is, and believes that his attorney general should launch a probe to figure it out.
"I would say Jeff should be investigating who the author of that piece was because I really believe it's national security," Trump told reporters aboard Air Force One on Friday, according to The Times. It's unclear if the president has formally directed Sessions to conduct an investigation, or if he was merely expressing a desire for this to happen.
Trump continued, explaining that he doesn't want the author of the op-ed sitting in on "high level" meetings within his administration.
"Suppose I have a high level national security and he has got a clearance — we talk about clearances a lot recently — and he goes into a high-level meeting concerning China or Russia or North Korea or something and this guy goes in," Trump said. "I don't want him in those meetings."
When asked about the prospect of taking legal action against The Times, Trump only said "we're going to see." But it's unclear what, if any, legal options the administration has. The op-ed itself doesn't appear to include any classified information. And although Trump implied in a tweet that the author might be guilty of treason, legal experts say that the author's actions clearly fall short of that crime, which is defined as "levying war" against the United States or providing "aid and comfort" to a country with which America is at war.
In a statement, The Times expressed confidence that the Justice Department would not be investigating the paper, as it didn't break any laws.
"We're confident that the Department of Justice understands that the First Amendment protects all American citizens and that it would not participate in such blatant abuse of government power," the newspaper said. "The President's threats both underscore why we must safeguard the identity of the writer of this Op-Ed and serve as a reminder of the importance of a free and independent press to American democracy."
In his comments Friday, Trump said he's frustrated that he has no way to "fight back" against the author of the op-ed, thanks to their anonymity.
"I don't mind criticism. I handle it and I fight back," Trump said. "But here's criticism where you can't fight back. 'Cause you have somebody doing it anonymously."