Trump Will Answer Questions In Summer Zervos' Lawsuit — Here's What That Means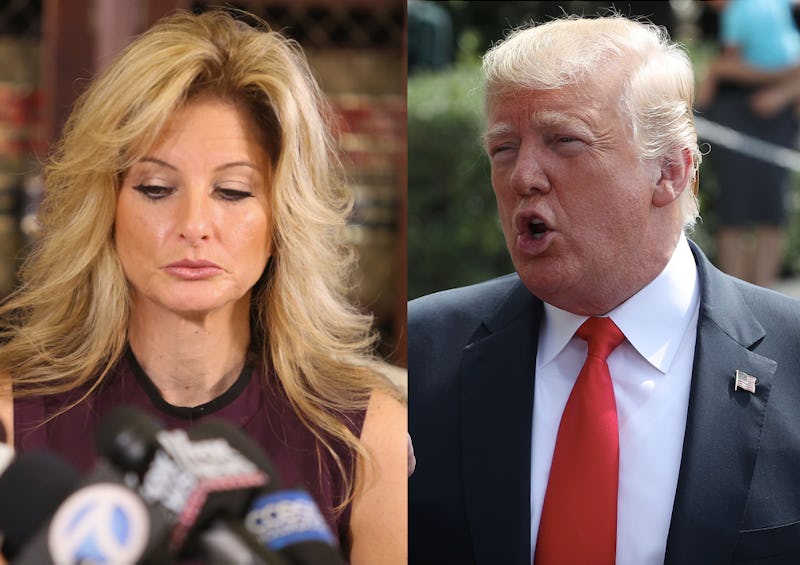 Frederick M. Brown/Getty Images Entertainment/Getty Images; Mark Wilson/Getty Images News/Getty Images
The president has agreed to answer questions in a lawsuit brought against him by Summer Zervos, a former Apprentice star who claims he sexually assaulted her. But don't expect President Donald Trump to take the stand in court. Instead, Trump will provide written answers in Zervos' defamation lawsuit while under oath.
Court documents filed in New York on Friday showed that both Trump and Zervos' attorneys had agreed to swap "written answers and objections" to a series of formal written questions by a Sept. 28 deadline, according to The Washington Post. New York state laws requires that the individual responding to such an interrogation answer the questions under oath, meaning the president could be subject to perjury should it be determined that he gave false answers or information.
Bustle has reached out to Marc Kasowitz, one of Trump's attorneys, for comment.
Although President Trump will not be testifying in court, the agreement to provide written answers is still a significant development in Zervos' case, which Trump's attorneys have repeatedly attempted to dismiss and delay. Zervos, who once competed on Trump's reality-TV series The Apprentice, was one of 16 women who accused Trump of sexual harassment or assault during the course of the 2016 election. Trump has repeatedly denied these allegations calling them lies.
Specifically, Zervos claimed that Trump had kissed her on the mouth, touched her breast, and thrust his genitals at her during a meeting they'd allegedly had at the Beverly Hills Hotel sometime in 2007. In an Oct. 14, 2016 press conference, Zervos said that she'd initially been "incredibly embarrassed" by Trump's sexual advances but thought his interest was genuine at the time. But Zervos said the leak of an Access Hollywood tape in which Trump can be heard boasting about being able to "grab" women without their consent gave her a new perspective on the encounter.
In response to Zervos' allegations, Trump told People magazine that he "vaguely remember[ed]" Zervos as having appeared on his show but claimed he'd "never met her at a hotel or greeted her inappropriately."
Then, in January 2017, Zervos announced she was suing Trump for defamation after he'd repeatedly characterized her allegations as a "hoax" and an attempt to gain fame. Her lawsuit argued Trump "knew that his false, disparaging statements would be heard and read by people around the world" and that the women he was disparaging would then "be subjected to threats of violence, economic harm, and reputational damage."
Court documents from March 2017 revealed Trump's legal team attempted to have Zervos' case dismissed or, at least, delayed until his presidency has concluded. They argued the case could potentially "distract" Trump from his job as president to the "detriment" of the nation. But according to Reuters, a judge overseeing the case eventually ruled against their motion to dismiss the case on the grounds he was a sitting president.
But Zervos' case is not the only defamation lawsuit that Trump is currently facing. Adult-film star Stormy Daniels has also sued the president for defamation over his denial of her claim that a man threatened her in 2011 when she attempted to go public about an alleged affair she'd had with Trump in 2006. Trump has denied her allegations of an affair. Daniels is also suing the president and former Trump attorney Michael Cohen for the right to break a 2016 nondisclosure agreement and speak publicly about their alleged relationship. It is not clear when either of Daniels' lawsuits against Trump will be resolved.