Trump Went On An Angry Rant About How Deborah Ramirez Was "Inebriated & All Messed Up"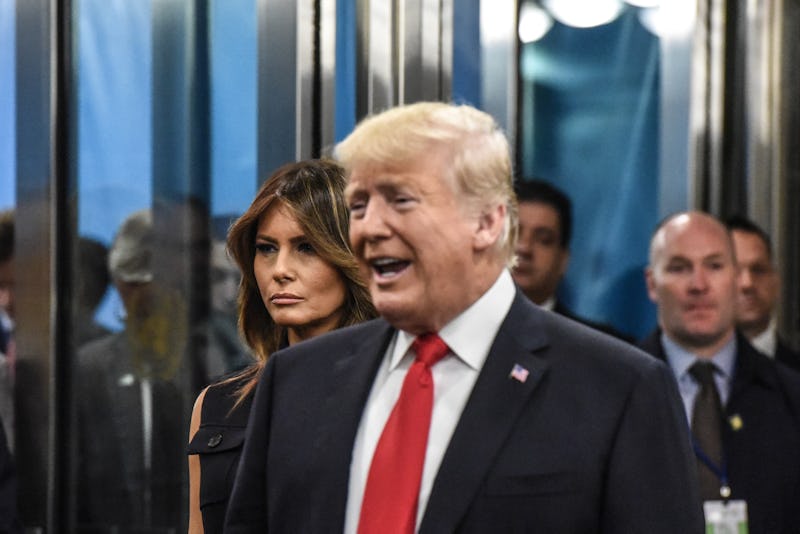 Stephanie Keith/Getty Images News/Getty Images
For a while, President Donald Trump stayed relatively quiet about the allegations of sexual misconduct against his Supreme Court nominee Brett Kavanaugh, which Kavanaugh has denied categorically. A transcript of Trump's comments on Kavanaugh accuser Deborah Ramirez, though, has proved that the president isn't staying quiet on that subject any longer.
"I think it's horrible what the Democrats have done. It is a con game; they really are con artists. They don't believe it themselves. They know he's a high-quality person," Trump said, referring to the allegations together, according to Glamour's Celeste Katz. "They don't believe it. It is just resist and obstruct. They are playing a con game and they are playing it very well, much better than Republicans."
He then moved on to address Kavanaugh's second accuser, Ramirez, who claimed in a New Yorker piece published on Sunday that Kavanaugh had exposed himself to her while the two of them were at a party during their freshmen year at Yale (he denied this). "She was totally inebriated and all messed up and she doesn't know," Trump said of Ramirez. "It might have been him or it might have been him."
"Gee, let's not make him a Supreme Court judge," Trump then said sarcastically, according to the New York Times. The members of the Supreme Court are called justices, not judges.
When asked if Ramirez should be able to testify, Trump doubled down on questioning her believability. "The second accuser doesn't even know, she thinks maybe it could have been him, maybe not," he said. "Admits she was drunk. She admits time lapses."
Ramirez did say that she was drunk at the time the alleged incident took place, but the New Yorker spoke to other people who claim that they heard about it contemporaneously.
"I mean how is this possible — 36 years ago? And now a new charge comes up and she says it may not be him and there are gaps. And she was totally inebriated and all messed up," Trump said, later in his answer to the same question.
Trump also offered his thoughts on Kavanaugh, whom he called "a wonderful human being." "He is one of the highest quality people. He said when he was focused on being No. 1 in his class at Yale, to me, that was so believable," Trump said of his Supreme Court nominee. "I understand college very well, being number 1 in your class, I understand a lot of things. When he said that, I understood exactly. He was so truthful."
Trump also noted that the whole confirmation process had "devastated" Kavanaugh's wife and children. Kavanaugh's family isn't the only one affected, however. Christine Blasey Ford, the first woman to bring out an allegation of sexual misconduct against Kavanaugh, was forced to leave her home with her family because of harassment and even death threats, according to the Palo Alto Daily Post.
Much of the news media noted that Trump's initial response to Ford's first allegation against Kavanaugh was surprisingly low key. Even early on, though, the Washington Post noted that the way he defended Kavanaugh — even while remaining respectful to his accuser — suggested that there was a "storm brewing." This set of comments, then, could be that very storm.