Trump's DACA Decision Could Rip 200,000 Children Away From Their Parents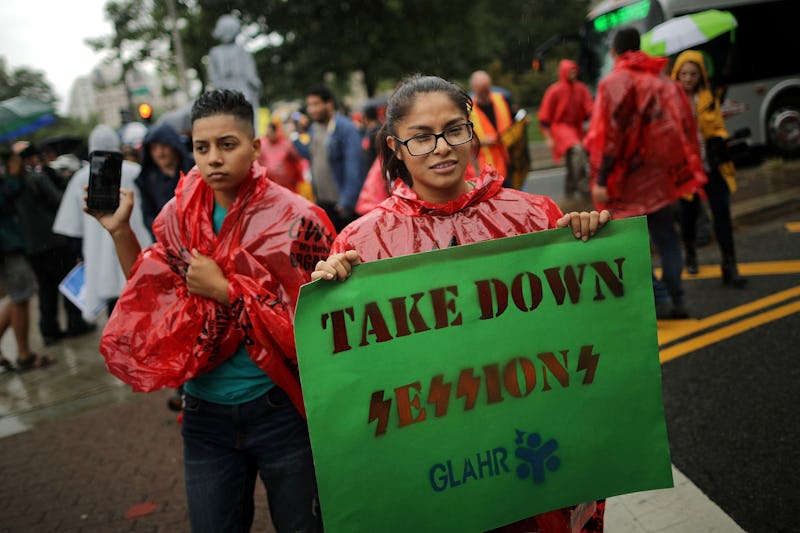 Chip Somodevilla/Getty Images News/Getty Images
On Tuesday, Attorney General Jeff Sessions announced the Trump administration's plan to end the Deferred Action for Childhood Arrivals (DACA) program. The program itself protects immigrants who arrived to the United States as children from being deported. However, DACA won't just impact the lives of minors. Under the current administration, there are also thousands of kids could lose parents under the DACA repeal.
In fact, according to a recent study conducted by Tom Wong of the University of California at San Diego, in conjunction with the liberal Center for American Progress, as many as 200,000 kids have parents who are protected by DACA.
"The data shows that 25.7 percent of DACA recipients have at least one U.S. citizen child. If extrapolated to the total population of DACA recipients, this suggests that at least 200,000 U.S. citizen children live in the U.S. currently who have a DACA recipient for a parent," Wong told The Daily Beast.
Sadly, Wong's troublesome findings are far from being the only ones. Another study conducted in 2015 by the immigrant-focused group United We Dream, revealed that 24.5 percent of DACA respondents had a U.S. citizen child.
While the administration has not been abundantly clear about what the process will entail, the Department of Homeland Security wrote "DACA requests will not be proactively provided to ICE and CBP for the purpose of immigration enforcement proceedings." In other words, the DHS will not be overtly handing over people's information to ICE.
Still, while remaining nebulous about the aggressiveness of enforcement, the White House has published a memo urging DACA recipients to prepare to leave the country.
The Department of Homeland Security urges DACA recipients to use the time remaining on their work authorizations to prepare for and arrange their departure from the United States — including proactively seeking travel documentation — or to apply for other immigration benefits for which they may be eligible.
Unsurprisingly, the Trump administration has not addressed the issue of children losing their parents. And it's doubtful the White House will implement a safety net for these kids.
Andrew Free, an immigration attorney in Nashville told The Daily Beast that one of his client's elementary age son now fears his mother will be deported. "My client's son became inconsolable at school when she got caught in traffic and was a bit late to the car rider line. He was terrified he'd never see her again. He required counseling," he told reporters.
If you haven't already, time is of the essence and now is the time to call your representative about DACA.