Here's The One Astonishing Topic Trump Didn't Bring Up During His Las Vegas Rally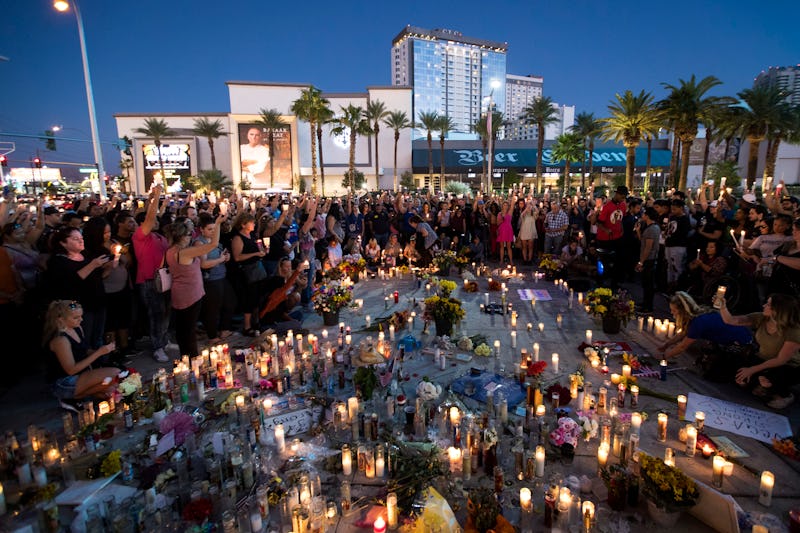 Drew Angerer/Getty Images News/Getty Images
On Thursday evening, even though Trump's Las Vegas rally was held just miles from the location of the deadliest mass shooting in U.S. history, he didn't mention it once. The rally, which marked the 11th MAGA event to be held in Nevada, was held on behalf of Sen. Dean Heller (R-NV). Trump talked about his friendship with Heller, his respect for Brett Kavanaugh, and even inspired one of his infamous "lock her up" chants throughout the night. But at no point did Trump bring up the Las Vegas shooting, which left 59 people dead in October 2017.
During his rally, Trump said of Kavanaugh, who has been accused of sexual misconduct by Christine Blasey Ford, "Brett Kavanaugh, and I'm not saying anything about anybody else, Brett Kavanaugh is one of the finest human beings you will ever have the privilege of knowing or meeting."
Kavanaugh has vehemently denied Ford's claims that he attempted to rape her during the 1980s while they both were in high school. As for Trump, he has stuck by Kavanaugh's nomination, and reiterated that Thursday night to the Nevada crowd.
Of Kavanaugh's allegation, Trump said, "So we'll let it play out, and I think everything is going to be just fine. This is a high quality person."
Though Trump didn't talk about the Las Vegas shooting (which is nearing its one-year anniversary) at the rally, he has addressed it at several points in the past, given that he was president when the shooting occurred last year.
Perhaps even more surprising than his not saying anything at all was Trump's choice of an opener for his rally: Wayne Allen Root, a conspiracy theorist who has previously asserted that the Las Vegas shooting was the work of ISIS. On October 2017, immediately following the mass shooting, Root tweeted, "This is real thing. Clearly coordinated Muslim terror attack. PRAY for our Vegas police. PRAY for victims. VERY bad. Awful."
A few days later, Root doubled down on his completely unfounded assertion, saying on a radio show that "ISIS fingerprints were all over this thing" before adding, "I have nothing to worry about so I laugh in their liberal commie faces, their liberal commie Muslim-sympathizer faces. Screw you! Come and get me. Screw you."
Root did not mention the shooting during his opening remarks for the evening, choosing instead to focus on rallying Republican voters for the 2018 midterms. "To lose this November is to lose Trump and to lose Trump is the end of America," he said to the crowds.
Earlier in the day, Root tweeted out multiple times about Ford's allegation against Kavanaugh. In one tweet, he wrote, "Democrat Party supports made up sex assault charges, from 36 yrs ago, with no evidence or witnesses, but liberals pols in California spend millions to PROTECT illegal alien sex offenders from being deported. They WANT them to stay in USA. #MENTALILLNESS"
Trump, too, challenged Ford's allegation in the hours leading up to his rally on Thursday evening. In an interview with Fox News' Sean Hannity immediately before the rally, Trump said, "Why didn't somebody call the FBI 36 years ago?"