Immigrants Receiving Any Public Benefits Could Be Denied Green Cards Soon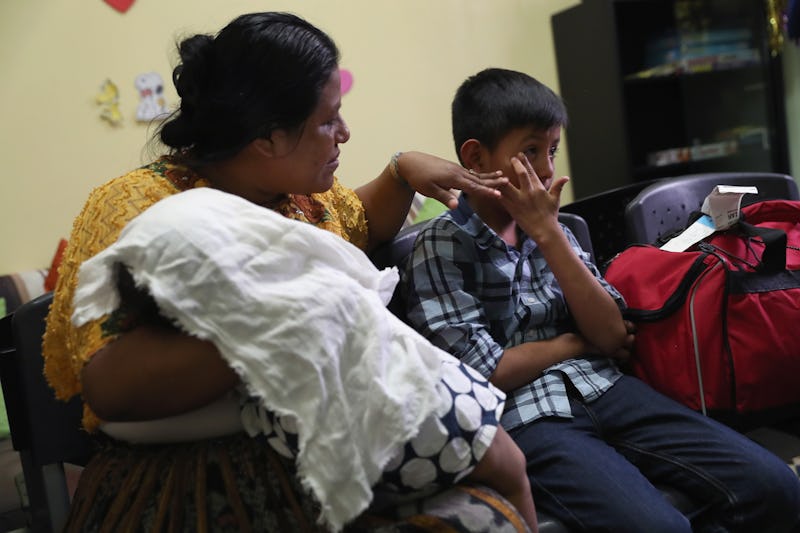 John Moore/Getty Images News/Getty Images
One hallmark of the Trump administration has been its fairly frequent rollout of hardline policies designed to limit immigration. From the series of travel bans to the family separations, these policies have continued to grip the nation. On Saturday, the administration released another one. New Trump administration rules will limit green cards for immigrants receiving public aid more sharply than any other administration has done before.
This new set of rules could deny green cards to immigrants receiving any form of public benefits, including housing vouchers, food stamps, and even lower cost prescription drugs through Medicare, according to The New York Times. This is a significant crackdown in relation to the previous rules, which only took into account whether the green card applicant had received cash benefits.
While undocumented immigrants have received much of the recent focus from the media and the administration, this new set of rules would only affect visa and green card applicants who are in the country legally, NBC News wrote.
"This proposed rule will implement a law passed by Congress intended to promote immigrant self-sufficiency and protect finite resources by ensuring that they are not likely to become burdens on American taxpayers," said Homeland Security Secretary Kirstjen Nielsen, according to NBC News.
The new rules target programs that millions of immigrants legally in the United States use, according to Politico. Immigration advocates worry that rather than risk their legal status in the country, the new rules could forces these millions of people to instead stop accepting the government benefits. If that happens, Politico wrote, then advocates fear it could lead to children going without food and health care.
"If this proposal is finalized, it could force families to forego needed healthcare or go hungry or become homeless in exchange for the opportunity of becoming a green card holder in the future," said Service Employees International Union International president Mary Kay Henry in a statement, according to Business Insider. "Parents will have to choose between taking their children to the doctor or being able to watch their children grow and remain together as a family."
For now, this policy is still just a proposal, USA Today wrote. Once it appears in the Federal Register, there will be a 60-day public comment period before it can go into effect. USA Today also noted that that timing could be important, because it's coming so soon before the midterms. Trump's immigration policies have been very divisive, so discussion of the new rules — whether they go into effect or not — could be an effective way of energizing people to get out and vote.
The Department of Homeland Security estimates that the rule change will affect 382,200 immigrants in the United States, according to Yahoo News, and it would not outright deny them the green card or visa on the basis of having used one of the public services in question. Instead, having used one or more of those benefits would become a "heavily weighed negative factor" on their applications, which The New York Times reported the applicant could nullify by posting a $10,000 cash bond.
"[This change] places wealth over family, denying ordinary working families a place in America," Olivia Golden, executive director of the Center for Law and Social Policy. told Yahoo News.