Trump's & Obama's Quotes About America Highlight Their Different Versions Of Progress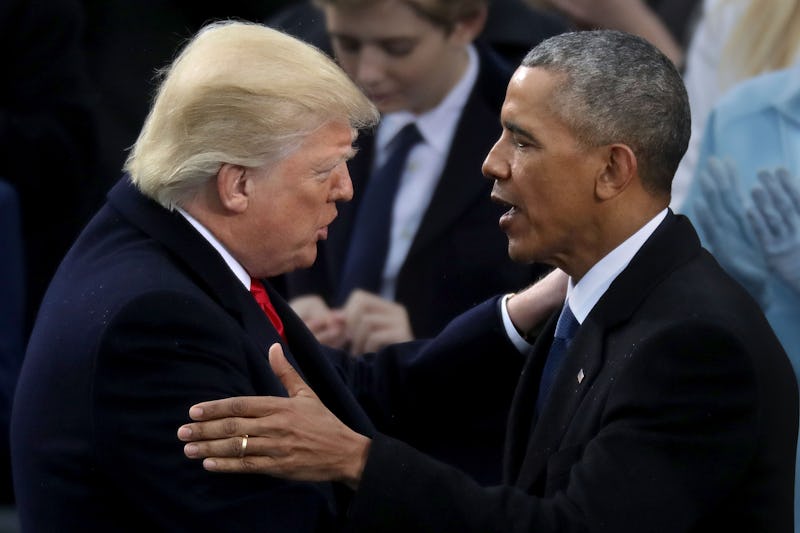 Chip Somodevilla/Getty Images News/Getty Images
It's no secret that presidents often differ about what they think their country needs, and comparing Presidents Donald Trump and Barack Obama's quotes about America proves this to be true. Each has, over the years, highlighted various facts and traits that they believe to be America's greatest strengths and weaknesses.
Whenever Obama or Trump reflect on what it means to be American, or what America needs most, they are usually responding to a particular moment in American history. But still, each president has stuck to a pretty similar individual script, and there are definite patterns in how each approaches "Americanness."
President Obama, for example, often underscored how important he believed diversity to be, or how he believed Americans always needed to have their eyes on the horizon if they wanted to be progressive. He frequently said that he thought Americans needed to work together, regardless of their political party, race, or religious affiliation.
In turn, President Trump, who hasn't thus far publicly analyzed America as frequently as Obama did, tends to argue in favor of tightening borders and isolating America from the rest of the world. He at times argues that, per his campaign slogan, America needs to be "made great again," and sometimes he says that this has already been achieved.
One thing that is true is that they are very different, both as people and as leaders. What they say reflects this.