Trump's Response To The Immigration Order Protests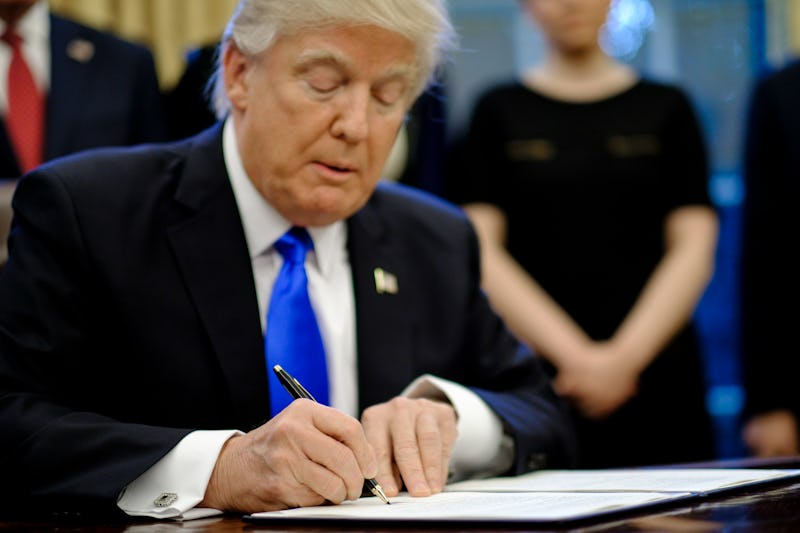 Pool/Getty Images News/Getty Images
Less than two weeks into his presidency, Donald Trump has proven himself adept at generating turnout. During a January that has been bitterly cold and depressing for much of the country, hundreds of thousands of Americans have come out to protest what Donald Trump is doing to their country. Trump's response to the immigration order protests over the weekend reveals that he sees what you're doing, and he's not mad about it. OK, OK, he is mad, and maybe kind of sad, but he's making America great again, no matter what human rights laws say, amirite?
One theme ran through Trump's tweets over the weekend, and it's one he repeated over the course of his campaign: The media is lying to you. "Somebody with aptitude and conviction should buy the FAKE NEWS and failing @nytimes and either run it correctly or let it fold with dignity!" he tweeted Sunday. In a statement later Sunday, clearly drafted by someone who uses fewer exclamation points than President Donald Trump, the administration added: "We will keep [America] free and keep it safe, as the media knows, but refuses to say ... To be clear, this is not a Muslim ban, as the media is falsely reporting."
It's no secret that protesting Donald Trump upsets Donald Trump. Following his inauguration, his press secretary delivered a biting statement to press that was solely about "the media" supposedly lying about crowd sizes. After the National Parks Service dared to resist the president on Twitter, Trump called the NPS' acting director, upset about the action. And when Trump gets sad, Trump gets mad.
Protests started in earnest Friday night and continued over the weekend. Here's how Trump responded via Twitter on Saturday and Sunday.
Judging by these tweets, as the protests expanded, Trump clearly grew more agitated. On Sunday, the administration released an official statement:
America is a proud nation of immigrants and we will continue to show compassion to those fleeing oppression, but we will do so while protecting our own citizens and border. America has always been the land of the free and home of the brave.
We will keep it free and keep it safe, as the media knows, but refuses to say. My policy is similar to what President Obama did in 2011 when he banned visas for refugees from Iraq for six months. The seven countries named in the Executive Order are the same countries previously identified by the Obama administration as sources of terror. To be clear, this is not a Muslim ban, as the media is falsely reporting.
This is not about religion - this is about terror and keeping our country safe. There are over 40 different countries worldwide that are majority Muslim that are not affected by this order. We will again be issuing visas to all countries once we are sure we have reviewed and implemented the most secure policies over the next 90 days.
I have tremendous feeling for the people involved in this horrific humanitarian crisis in Syria. My first priority will always be to protect and serve our country, but as President I will find ways to help all those who are suffering.
Remember: Your resistance efforts are bugging the president more than he'll let on. Keep doing it.