Trump Made An Absurd Claim About The Puerto Rico Hurricane Death Toll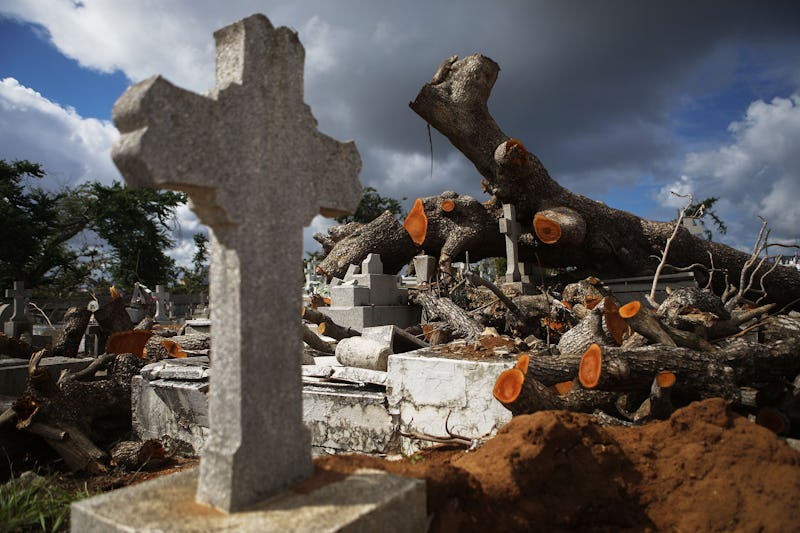 Mario Tama/Getty Images News/Getty Images
President Donald Trump's morning tweets on Thursday took on a particularly sensitive topic: the devastation caused by Hurricane Maria, which hit Puerto Rico last fall. Trump tweeted that the Puerto Rico hurricane death toll was falsely high, despite the fact that it has been endorsed by dozens of scientific analysts and the island's own government.
"3000 people did not die in the two hurricanes that hit Puerto Rico," he tweeted on Thursday. "When I left the Island, AFTER the storm had hit, they had anywhere from 6 to 18 deaths. As time went by it did not go up by much. Then, a long time later, they started to report really large numbers, like 3000..."
"This was done by the Democrats in order to make me look as bad as possible when I was successfully raising Billions of Dollars to help rebuild Puerto Rico," he continued. "If a person died for any reason, like old age, just add them onto the list. Bad politics. I love Puerto Rico!"
Death tolls from a natural disaster include not just "direct" deaths, which occur while the event is still going on, but also "indirect" deaths, which occur in its aftermath but are still caused by the event. Indirect deaths from Maria include, for example, those who died because of the subsequent power outages and those who were unable to receive their routine but crucial medical treatment (like getting insulin for diabetes) because the storm damage impeded transportation.
"This is what denial following neglect looks like," San Juan Mayor Carmen Yulín Cruz tweeted in response. "Mr Pres in the real world people died on your watch. YOUR LACK OF RESPECT IS APPALLING!" In the wake of the hurricane last fall, Cruz called on the Trump administration to provide more disaster assistance and criticized how it had reacted so far.
Measuring indirect deaths is difficult, so it took the government of Puerto Rico a long time to put out an accurate estimate of Maria's death toll. By Nov. 21, the official figure stood at 55. The figure was raised to 64 in December, and it stayed there for months while the Puerto Rican government awaited the results from an independent investigation it had commissioned.
That investigation concluded this summer, and on Aug. 28 the Puerto Rican government announced that it was endorsing the results and raising the official figure to 2,975. "This is unprecedented devastation," the island's governor told reporters at the time. To put that number into context, many estimates put the death toll from Hurricane Katrina at 1,833.
The White House responded to the updated 2,975 figure in August. Press Secretary Sarah Huckabee Sanders did not specifically say whether or not the administration agreed with the new number, but she did say that it supported the efforts to "ensure a full accountability and transparency of fatalities." She added: "The American people, including those grieving the loss of a loved one, deserve no less."
Trump's tweets about the death toll are blatantly false. They contradict the way that hurricane death tolls are always calculated, including the one from Katrina, which he's implicitly endorsed by comparing it to early numbers from Maria to show why the storm in Puerto Rico wasn't a "real catastrophe."