Tucker Carlson Will Take Megyn Kelly's Fox Spot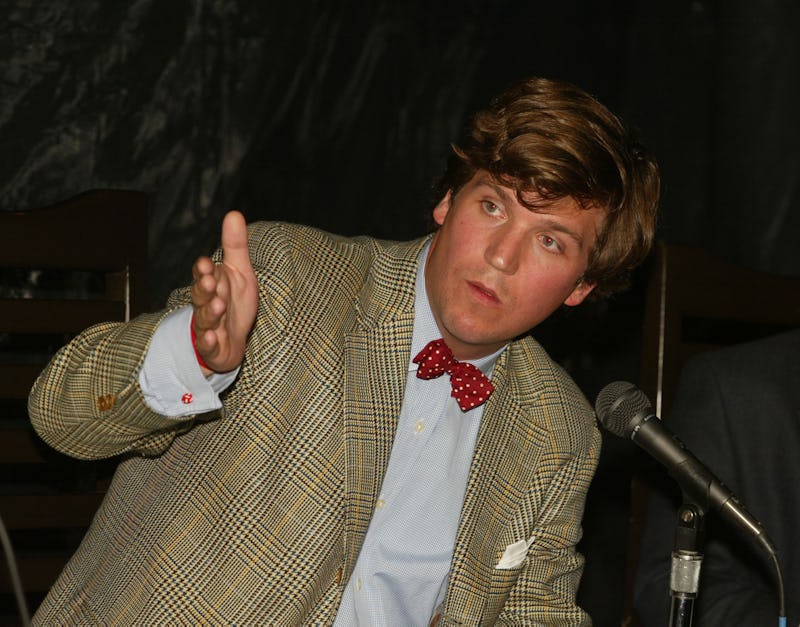 Kevin Winter/Getty Images Entertainment/Getty Images
Just two days after news broke that Megyn Kelly would be leaving Fox News, Drudge reported that Tucker Carlson would take Kelly's time slot on the cable news network. Carlson currently holds the 7 p.m. time slot with his show Tucker Carlson Tonight, but will be taking over The Kelly File 9 p.m. slot, according to a press release from Fox, which was sent shortly after Drudge's report. Carlson's time slot will be taken over by Martha McCallum for Donald Trump's first 100 days in office, in a show called The First 100 Days.
In the press release, Rupert Murdoch, executive chairman of 21st Century Fox and Fox News, said, "In less than two months, Tucker has taken cable news by storm with his spirited interviews and consistently strong performance. Viewers have overwhelmingly responded to the show and we look forward to him being a part of Fox News' powerful primetime line-up."
On Tuesday, it was announced that Kelly would be leaving Fox News for NBC to host her own daytime program, which will run Monday through Friday, as well as anchor her own Sunday night news magazine program. Kelly reportedly turned down a $20 million salary to stay with Fox News. Her contract was supposed to run through the summer, but her last episode of The Kelly File will air on Friday.
There had been much speculation over who would replace Kelly in the coveted time slot, and what that replacement would say about Fox News' direction. Jane Hall, a Fox News contributor and professor at American University's School of Communications, told the Wall Street Journal, "Who they put in there will reveal a lot. Will they continue to reflect establishment Republicans who were opposed to Trump or will they just get on board? Having lost her they have an interesting challenge to figure out how independent of Donald Trump do they want their prime-time hosts to be."
Carlson recently received heat for attacking Teen Vogue writer Lauren Duca in an interview on his show. While the interview began about the Ivanka Trump Jetblue incident, Carlson began attacking Duca for writing about fashion in addition to politics. He concluded by saying Duca should avoid covering politics and "stick to the thigh-high boots. You're better at that."