These Tweets About Trump's Transgender Military Ban Demonstrate Its Far Reaching Consequences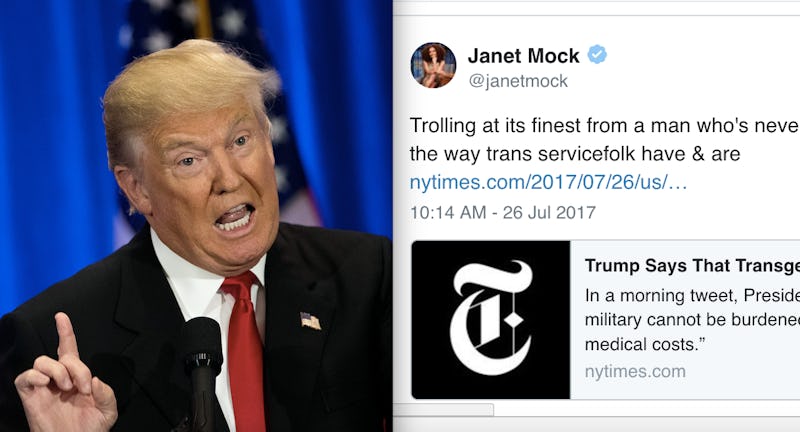 Drew Angerer/Staff/Getty Images; Janet Mock/Twitter
In a series of tweets on Wednesday morning, President Trump banned transgender people from serving in the U.S. military "in any capacity." Many critics of the move have taken to Twitter to denounce the ban on trans people in the military. They argue that prohibiting trans Americans from military service will have far-reaching negative consequences for the armed forces, LGBT Americans, and the country as a whole.
In three tweets this morning, Trump wrote,
After consultation with my Generals and military experts, please be advised that the United States Government will not accept or allow Transgender individuals to serve in any capacity in the U.S. Military. Our military must be focused on decisive and overwhelming victory and cannot be burdened with the tremendous medical costs and disruption that transgender in the military would entail.
The ban is a reversal of a June 2016 decision by Ash Carter, Secretary of Defense under Obama, which ended the ban on transgender people serving in the military. In that decision, the Pentagon was granted a year to establish policies for enlisting transgender recruits. This June, with that review period set to end, Trump's Secretary of Defense, Jim Mattis, announced that the wait would be extended for another six months.
It is unclear how Trump's decision will affect the thousands of transgender people already serving in the U.S. military. Reports vary as to how many trans people are currently enlisted; the National Center for Transgender Equality estimates that there are more than 15,000 trans people serving in the military right now, while a 2016 survey from the RAND Corporation puts that number considerably lower, somewhere between 1,320 and 6,630. The Independent reports that there are as many as 250 trans people in the military at the moment who are either actively transitioning or who have "been approved to formally change gender within the Pentagon's personnel system."
Needless to say, people who support LGBT rights have been highly critical of the ban, arguing that it is discriminatory, unnecessary, bigoted, and regressive. After so many steps forward for LGBT people in recent years — including last year's decision to lift the ban on trans people in the military — this decision to bar trans Americans from military service represents a disturbing and grim step backward.