It Looks Like Trump Getting Banned By Twitter Isn't A Far-Fetched Idea After All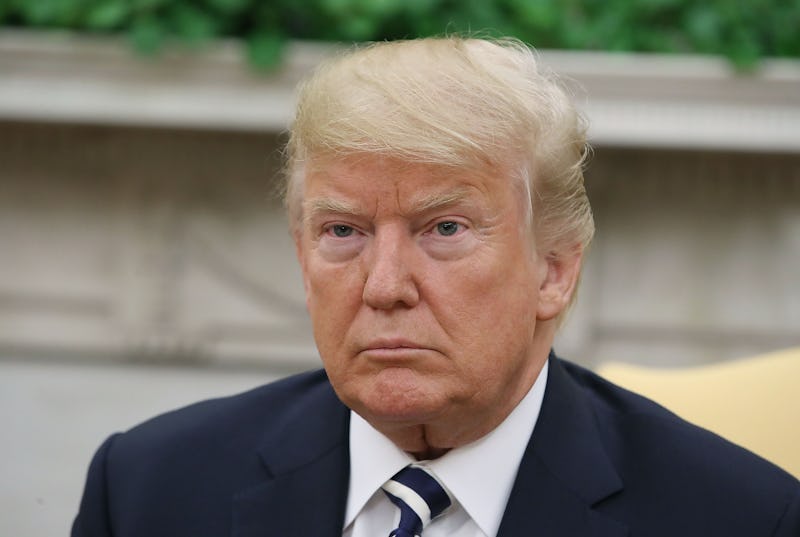 Mark Wilson/Getty Images News/Getty Images
Even the president of the United States may have to think twice about what he says on Twitter. According to an interview with Twitter's legal and policy chief Vijaya Gadde and CEO Jack Dorsey on Politico, banning Donald Trump from Twitter isn't out of the question. Although Politico reported that tweets from presidents and prime ministers were newsworthy, Gadde added that the social platform's speech policy "is not a blanket exception for the president or anyone else."
The interview, which was published on Tuesday, dug into free expression on Twitter and how the website's speech policy influences its users. It comes a day before Dorsey appears in front of House Energy and Commerce committees on Wednesday to discuss Twitter's speech practice and policy. He'll be joined by Facebook and Google to address congressional concerns about supposed anti-conservative bias online among other issues.
Dorsey said in the interview, "We're happy to have a conversation with our peers, because we don't think this is an issue focused on just us alone. So we were attempting to get our peers up there as well and be joined by them, rather than be singled out. We don't think that's fair."
When asked whether he would take Trump off the platform for possibly violating Twitter content terms and practices, however, Dorsey did not give a clear answer. The Twitter CEO said, "We have to balance it with the context that it's in. So my role is to ask questions and make sure we're being impartial, and we're upholding consistently our terms of service, including public interest."
In January, Twitter's official blog published an unsigned post under the title of "World Leaders on Twitter." Without mentioning any specific president or premier, Twitter's official blog post said, "Blocking a world leader from Twitter or removing their controversial Tweets would hide important information people should be able to see and debate."
Additionally, the post noted that, "It would not silence that leader, but it would certainly hamper necessary discussion around their words and actions." Such tweets coming from world leaders, including controversial ones, were apparently reviewed "within the political context that defines them," according to Twitter.
In the interview with Politico, Dorsey also discussed how important Section 230 of the Communications Decency Act was to tech companies in the United States — especially to tackle online abuse. The Twitter CEO said, "If we didn't have that protection, we would not be able to do anything around harassment or to improve the safety or health of the conversation around the platform."
People have been vocal about removing Trump from Twitter for his aggressive tweets against what Politico's Nancy Scola and Ashley Gold called "perceived enemies." In fact, the president's tweets have been aggravating enough to compel protests. In January, activists superimposed their messages on Twitter's San Francisco headquarters. Messages like "a tweet starts WWIII?," "history is watching," and "be a hero: ban Trump" were plastered on the building.
For now, it seems like Dorsey will focus on the supposed impartiality of his website's policies. Addressing any lingering concerns about "anti-conservative bias," Dorsey told Politico that "for our part, we can do a better job of explaining our principles. And anytime we recognize mistakes, we've been fairly vocal about it, and then correcting. So that's what we're going to focus on."