Celine Dion's Epic Sleeves At The 2017 BBMAs Drew Titanic References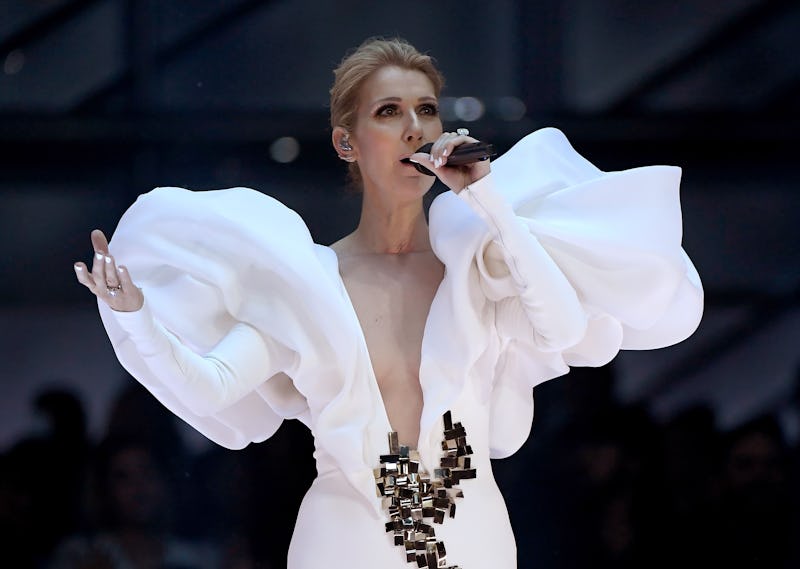 Ethan Miller/Getty Images Entertainment/Getty Images
Those weren't sleeves — those were wings! Celine Dion performed her iconic Titanic power balled "My Heart Will Go On" at the 2017 Billboard Music Awards. The only things bigger and more epic than the song, than Dion's room-filling voice, and the Titanic itself were the puffy sleeves of her white dress. Dion wore a white column gown with utterly enormous sleeves at the 2017 BBMAs. Of course Twitter was here for the performance itself, with tons of fans and viewers posting weeping memes to indicate how emotionally profound and moving her delivery was. The general consensus regarding Dion's rendition of her 20-year-old smash hit was that it was flawless and heart-wrenching. I am all in and fully agree with that opinion. She slayed that stage.
Even so, those sleeves also elicited plenty of responses... because how could they not? They were massive. But somehow, in some miraculous and inexplicable way, they didn't dwarf the singer's petite frame. It was as though Dion and her designer needed to add the appendages to her dress so that they matched her voice and the emotional heft of her performance.
You will certainly giggle at what Twitter had to say about Celine Dion's epic and extra sleeves. The reactions were absolutely priceless and clever, with loads of references to the Titanic and Jack Dawson.
But first, peep the proportions.
The dress was maj. The slim silhouette balanced out those sleeves.
The sleeves fit the scope of the song.
A goddess indeed.
The sleeves have secrets.
The '80s were all about statement shoulder pads...
The sleeves had their own zip code.
This user sensed a theme.
Her heart and those sleeves will go on.
It's a question for the ages.
Truth!
Dion's sleeves could have doubled as Jack Dawson's Swimmies.
Gaga would be proud and she would definitely have worn those sleeves.
Twitter was most definitely here for those sleeves!