Twitter Is Freaking Out Over Rihanna's 2017 Met Gala Dress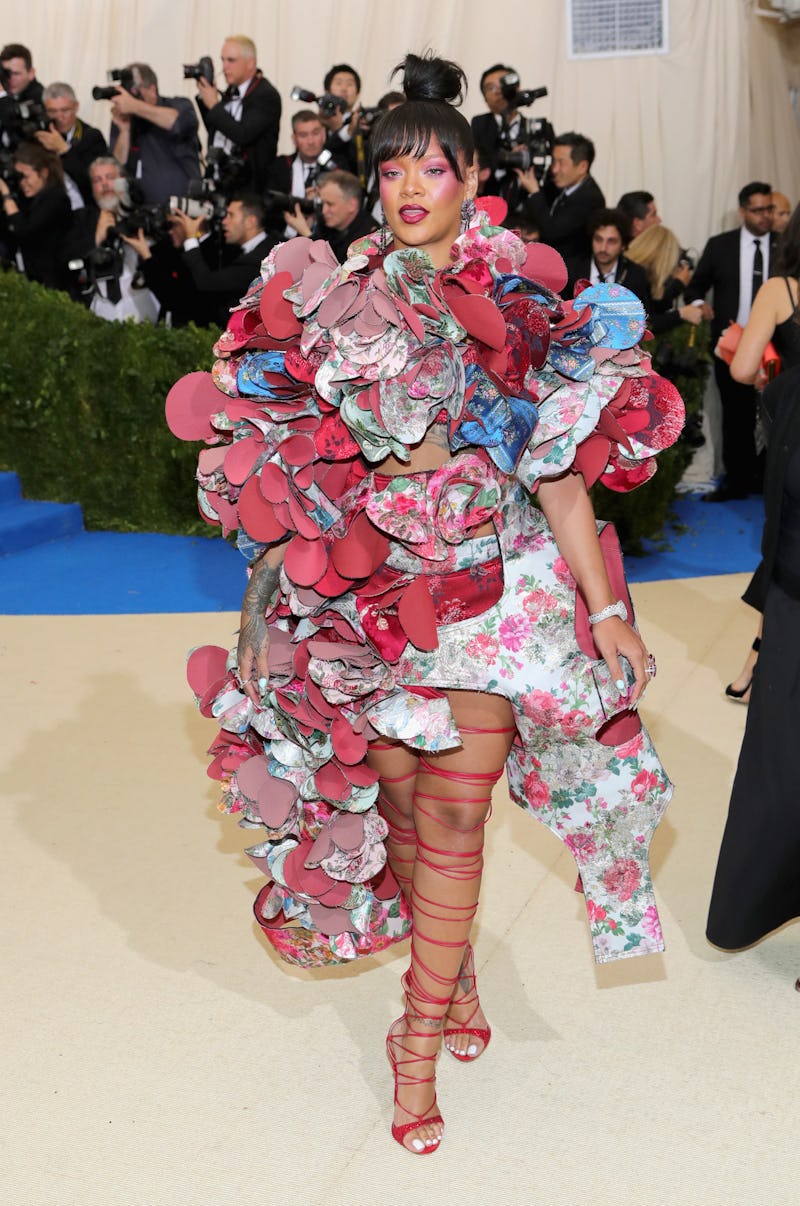 Neilson Barnard/Getty Images Entertainment/Getty Images
Although the Met Gala doesn't tell their invitees that they have to dress on theme, it's nice to see that some a-listers are catching on. Dressed as fabulous as ever, Rihanna wore a floral Commes des Garcons to the 2017 Met Gala. Because the singer knows how to make a statement. The dress might not have been the most conventional, everyday look, but Twitter reactions to Rihanna's Met Gala look prove that the singer knows how to nail a trend. Not exactly the most wearable, but is anything she wears?
If there's anyone that knows how to make a statement on the red carpet, it's Rihanna. The singer completely stole the show with her 2016 Met Gala look, and she followed it up perfectly. Going completely on theme, Rihanna wore a structural Commes des Garcons dress that looked like a paper mache project. The gown had 3D flowers attached to the top and down one side. The rest was a gorgeous floral printed fabric. Basically, she was a cocoon of chic.
While some people decided to keep it sleek on the red carper (*cough* Kim Kardashian's white dress *cough*), Rihanna came dressed to make a statement. She could just be the biggest fashion icon of the century, IMO. Rihanna's looks are always unexpected and get bigger and better every single year. The makeup and shoes are also a nice touch.
Twitter reactions are quickly proving that Rihanna is the unofficial queen of the Met Gala. Although it's an unconventional look, people can help but notice how confident and comfortable she looks in this intricate design.
EVERYTHING.
She's come a long way.
She really is stunning.
BOOM.
New brand, who dis?
Now that's a complement.
Simple and sweet.
From head to toe — literally.
Rihanna just has a way of wearing dresses.
Bottom line: there aren't too many people who have anything bad to say about this look.