Tyra Banks Did Her Own Hair & Makeup At The Beginning Of Her Career Because No Stylist Could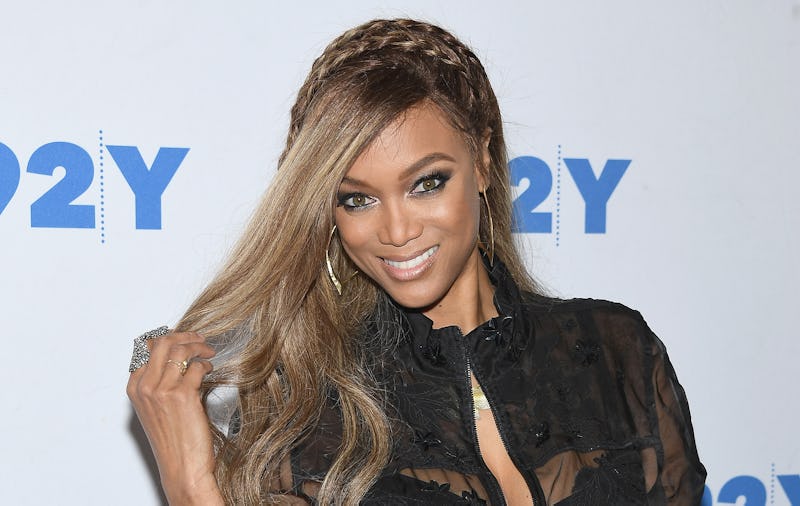 Dimitrios Kambouris/Getty Images Entertainment/Getty Images
When you think of classic Victoria Secret Angels, names like Alessandra Ambrosio and Giselle Bündchen immediately come to mind. But before these models is the queen, Tyra Banks. The super model arguably became a household name because of her work with the brand, but it wasn't easy at first. Tyra Banks recently revealed her Victoria's Secret career almost didn't happen because no one could style her natural hair. While the brand has come a long way since Banks' initial walks with them, it's indicative of how hard models of color have to work in the fashion industry.
According to an interview with W, Banks had to hire her own hair and makeup team for her first job with the brand. She explains that when she arrived on set, none of the stylist were able to work with her natural texture. Ultimately, she was sent home that day. In the following years, Banks hired a hairstylist for herself. In fact, she worked with a stylist the day before the show, wrapped her hair in a scarf until the next day, and then went into the backstage area and never let the official Victoria's Secret stylist touch her hair. However, Banks also explained that it went beyond her hair on set.
During her first years working with the brand, Banks would also go into the bathroom to redo her makeup. She explained that after she got her hair done at home, she would edit the job the makeup artists did as well, going into the bathroom, washing her face, adding more lip gloss, and then heading to set.
Banks, however, has praise for Victoria's Secret. As most people know, Banks became one of their signature angels, wearing their famous Fantasy Bra in 1997, and according to StyleCaster becoming the first black model to ever sign a contract with the brand.
Ultimately, she was able to leverage her fame with the brand. She explained, "I stopped silently suffering. And I do have to take my hat off to Victoria's Secret because that was the last time I ever had to do that—I talked to them and said, 'Look, my hair is different, I need somebody who can do my hair.' After that, they hired people who could do my hair for 10 years."
It may just be safe to say that Banks helped usher more diversity on the Victoria's Secret runway. The brand has come quite a long way since not hiring stylist who could work with Banks' hair. While body diversity is still an issue, their 2015 show recognized and celebrated natural hair for the first time ever.
Model Maria Borges walked the 2015 show with her natural hair. It was a decision she was reportedly elated about. She explained to her agent that she wanted to walk the show au natural, and the brand totally went for it. Needless to say, Borges looked stunning on the runway.
While Victoria's Secret still has a ways to go for racial diversity, they've also started moving in the right direction in terms of representation. According to a 2015 breakdown by VH1, Victoria's Secret 30 percent of the models in the show were people of color, making the brand one of the most inclusive even if they do have some room for improvement.
Banks has gone on to become an entrepenuer with her own cosmetics brand and her ultra successful series American's Next Top Model. But once an angel, always an angel, right?