Some Fans Are Actually More Worried About 'House Of Cards' Than The Kevin Spacey Allegations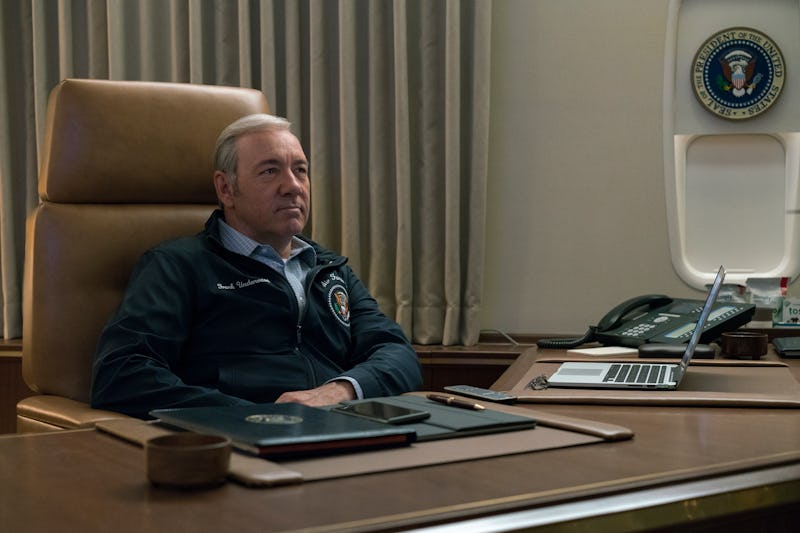 David Giesbrecht / Netflix
There's no right way to process the shock of allegations of any nature against someone you admire. But there are certainly wrong ways, as exemplified by those who are more concerned about whether or not House of Cards will get canceled than about the Kevin Spacey allegations. Many fans have taken to Twitter to demand the show's cancellation out of solidarity with the alleged victim, actor Anthony Rapp. But there are many more who have flooded the social media platform with insensitive, tone-deaf, and outright hurtful posts that place the status of the show above any concern for those affected. (Bustle has reached out to the streaming platform for a comment on the House of Cards backlash, but has not yet heard back.)
Update: On Monday, The Hollywood Reporter reported that House of Cards' sixth season would be its final season.
Update #2: On Monday, Netflix and Media Rights Capitol released the following statement to Bustle:
"Media Rights Capital and Netflix are deeply troubled by last night's news concerning Kevin Spacey. In response to last night's revelations, executives from both of our companies arrived in Baltimore this afternoon to meet with our cast and crew to ensure that they continue to feel safe and supported. As previously scheduled, Kevin Spacey is not working on set at this time."
Earlier: The catalyst for this controversy was an interview that Rapp gave to BuzzFeed, published on Sunday. In it, the Rent actor told the outlet about an alleged incident at a party where Rapp claims that Spacey picked him up, carried him to the bed, and laid down on top of him. He says that the alleged encounter felt distinctly sexual to him, even as a child, and remains "deeply confusing" to him to this day. Presumably for those reasons, the Star Trek: Discovery actor has never made his claims public before now.
On Monday, Spacey responded to the accusations via a tweet published at midnight. He denied any memory of the alleged encounter, but says, in part:
"If I did behave then as [Rapp] describes, I owe him the sincerest apology for what would have been deeply inappropriate drunken behavior, and I am sorry for the feelings he describes having carried with him all these years."
In fact, it's been over 30 years since the alleged encounter took place. And Rapp might have stayed silent for many more, had he not been inspired by the many women who have recently come forward to share their experiences with men like Harvey Weinstein. "I'm feeling really awake to the moment that we're living in," he said. "And I'm hopeful that this can make a difference." Most people would read that statement in full and feel deeply empathetic to Rapp, who's now 46 years old, as the fact that he's been holding this alleged memory inside for over three decades is heartbreaking, if his claims are true.
But one factor that doesn't seem to need to be part of the equation is House of Cards, especially when speculating about its fate is given more importance than Rapp's troubling allegations.
And yet that's exactly the trap that dozens and dozens of Twitter users have fallen into. You have only to scroll through the platform for a moment to see a whole slew of posts that run the gamut from mild insensitivity to full-on victim-blaming.
While it's understandable to need a second to reconcile your favorite actor's acting and his alleged actions, focusing on how the allegations will affect your fandom is problematic. When fandom is allowed to outweigh empathy, it can encourage victims to remain silent and to carry the burden of their experiences alone. We have the ability to put the focus on the real problem in some small way by turning up the dial on our own compassion and waiting a beat before wondering what might happen to a show that's fun to watch.
There's no shame in loving House of Cards; it's just about how you reconcile that love with the new information that's emerging. Which means prioritizing the suffering of an alleged victim speaking out about their sexual assault claims over the suffering of maybe not being able to watch one beloved Netflix show anymore. In the end, we have a responsibility to keep things in perspective, to take the power away from alleged abusers and put control back into the hands of those brave enough to speak out.