Some Umpires Are Reportedly Thinking About Boycotting Serena Williams' Matches Now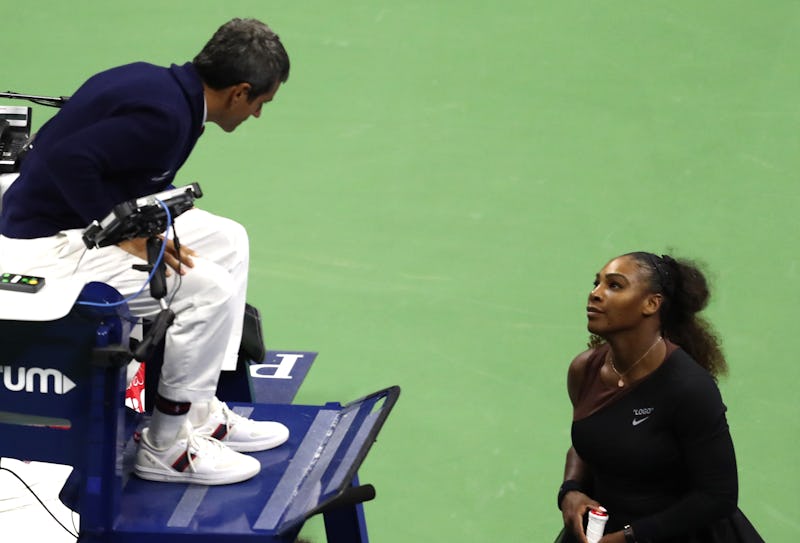 Al Bello/Getty Images Sport/Getty Images
After an argument on the court caused Serena Williams to receive a game penalty during the U.S. Open on Saturday, a public outcry — sparked by the player's own protest — condemned umpire Carlos Ramos' decision as sexist. But many umpires around the world are angry for a different reason. They're upset about the lack of institutional support they feel Ramos got, and some of these umpires are considering boycotting Williams' matches, according to a report in The Washington Post.
Bustle reached out to the U.S. Tennis Association (USTA) and the International Tennis Federation (ITF) for comment on the report; ITF responded, "We have no information to the effect that umpires are considering a boycott of Serena Williams' matches."
"There is a lot of unhappiness in the umpiring community," one anonymous umpire told The Guardian on Wednesday. "There is a widespread feeling that Carlos was hung out to dry for nearly 48 hours and that no one is standing up for officials."
The ITF did release a statement in support of Ramos, but not until nearly 48 hours had passed after the incident. "Mr. Ramos' decisions were in accordance with the relevant rules," the organization said. "It is important to remember that Mr. Ramos undertook his duties as an official according to the relevant rule book and acted at all times with professionalism and integrity."
By the time ITF spoke out, other tennis organizations had already made statements that threw more support behind Williams. The president of USTA noted how she had celebrated and comforted winner Naomi Osaka at the end, saying that her actions showed "a great deal of class and sportsmanship." In an interview with CBS This Morning on Tuesday, the president said that a double standard does exist when it comes to evaluating male and female players' reactions to incidents that occur during sporting events.
The Women's Tennis Association (WTA) said on Sunday its organization "believes that there should be no difference in the standards of tolerance provided to the emotions expressed by men vs. women and is committed to working with the sport to ensure that all players are treated the same. We do not believe that this was done last night."
According to The Guardian, many umpires feel that the statements from USTA and WTA helped enable the public to back Williams instead of Ramos. London's The Times reported on Tuesday that talk of a boycott was emerging because of a "growing consensus" that Ramos had not received as much institutional support as he was due.
The Guardian reports that umpires are also considering forming a union, an idea which has been floated for years. Umpires are currently not allowed to talk publicly about specific matches, which means that it's difficult for them to defend someone like Ramos after situations like the one that occurred on Saturday.
At the U.S. Open, Ramos first gave Williams a code violation warning saying that her coach gestured at her with hand signals during the match. According to Vox, the prohibition against this exists but is rarely enforced. Her coach told ESPN that "I was like 100 percent of the coaches on 100 percent of the matches, so we have to stop this hypocrite thing." He also added that "I don't think she looked at me, so that's why she didn't even think I was."
Williams contested the charge. She then became increasingly frustrated throughout the match and smashed her racket after losing a set, after which Ramos gave her a second official violation, resulting in a point penalty. Near the end of the game, she rebuked the umpire, calling him a "thief," and Ramos responded by penalizing her again. That third violation cost her a game point. After a 6-2, 6-4 match, Osaka was declared the tournament winner.
While Williams and many onlookers believe she was the one treated unfairly on Saturday, some umpires apparently feel that Ramos is the victim. "Umpires keep asking: 'What if it was me in that chair on Saturday?'" the anonymous source told The Guardian. They may take more drastic action if they don't feel that their concerns are mollified.