'Unbreakable Kimmy Schmidt' Gets A Season 4 Renewal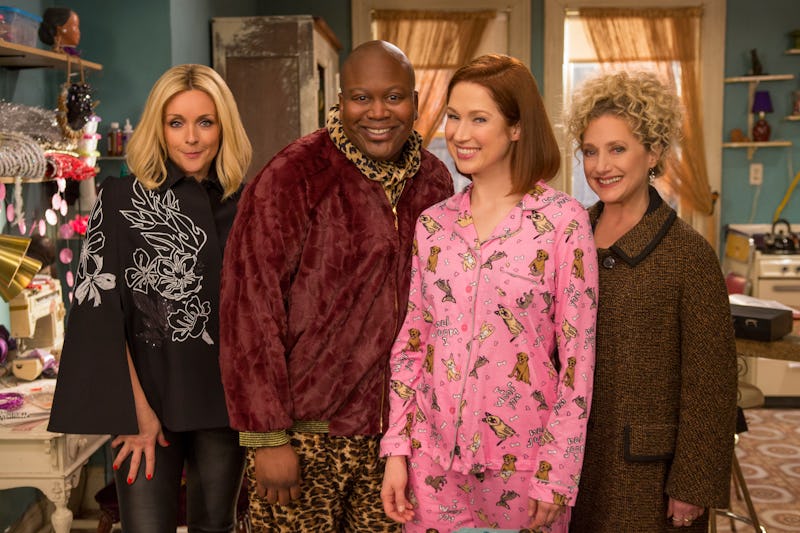 Eric Liebowitz / Netlix
I hope fans of Titus Andromedon are sitting down because Unbreakable Kimmy Schmidt has been renewed for Season 4. The renewal indicates that the series has strong viewing numbers, particularly in the wake of comments by Netflix bosses that the streaming service hasn't canceled nearly enough shows yet. As Reed Hastings of Netflix said in May 2017, the "hit ratio is way too high right now," indicating that it was time to consider cutting even more content after The Get Down and Sense8. Luckily, though, Tina Fey's co-creation will live on, and, more importantly, Unbreakable Kimmy Schmidt Season 4 guarantees us more Titus Andromedon!
Fans have been really taken with Kimmy's story. After finally escaping from a bunker, where she was held captive by an evil Reverend for most of her life, Kimmy moves to New York to start over. Her fun and strange adventures are undoubtedly what keeps viewers interested — along with her roommate, the inimitable Titus Andromedon, whose comedy stylings are unparalleled. With an awesome array of guest stars, including Tina Fey, Unbreakable Kimmy Schmidt is Netflix's sitcom hit. And, considering Kimmy's complicated and distressing back story, the show has a lot of potential material for future episodes.
Season 3 saw Kimmy pursue her GED, while Titus recreated Lemonade onscreen. It was satisfying to see Kimmy finally discover her potential and decide what she might want to do with her life by applying for college. Guest stars included Ray Liotta, Maya Rudolph, and Jon Hamm. Laura Dern played a new love interest for the Reverend, which made her guest-starring episode hilarious, cringe-worthy, and low-key terrifying.
Unbreakable Kimmy Schmidt isn't going anywhere, thanks to Netflix, which is great news for people everywhere. Kimmy is the unlikely role model we never knew we always needed, who has candy for dinner and wears the cutest rainbow outfits.