University Press Of Florida Is Protesting Richard Spencer's Speech With Free Books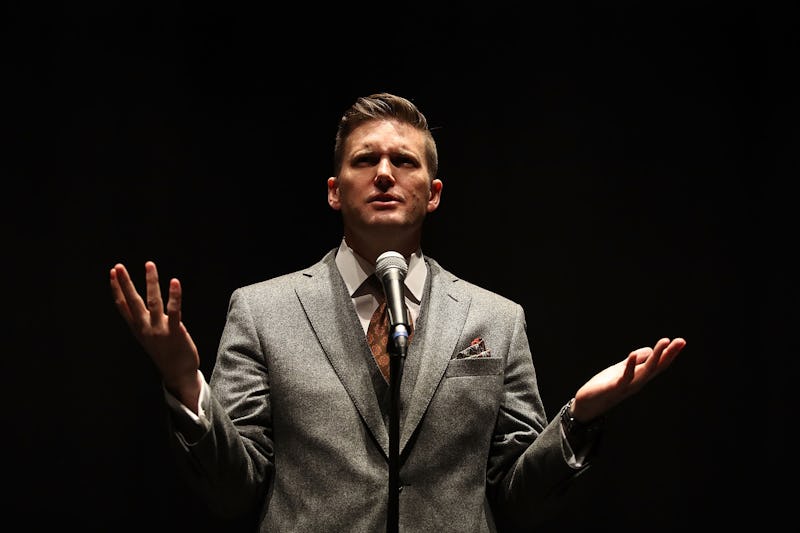 Joe Raedle/Getty Images News/Getty Images
In anticipation of a speech to be given by white supremacist Richard Spencer on Thursday, the University Press of Florida aims to "combat hate with facts" by offering two free e-books online: PDF copies of Karen L. Cox's Dixie's Daughters: The United Daughters of the Confederacy and the Preservation of Confederate Culture, and William B. Lees and Frederick P. Gaske's Recalling Deeds Immortal: Florida Monuments to the Civil War. Published by the University Press of Florida, both books lay out the sordid history of the monuments, and debunk contemporary arguments about "heritage, not hate." The University of Florida will have these books available as a free download until Friday, Oct. 20.
Spencer is the self-declared white nationalist responsible for the Charlottesville rally earlier this month. And although the University of Florida previously stated that Spencer would not be invited to speak on campus, they reneged on that decision in early October, with university spokesperson Janine Sikes quoted as saying: "Although UF leadership has denounced Spencer's white supremacist rhetoric, the university, as a state entity, must allow the free expression of all viewpoints." The Thursday speech will be Spencer's first on-campus event since he spoke at the University of Virginia during the deadly Charlottesville rally in August.
Spencer's upcoming speech at the University of Florida has not come without controversy. Governor Rick Scott declared a state of emergency for Alachua County on Monday, calling it "an additional step to ensure that the University of Florida and the entire community is prepared so everyone can stay safe." University President Kent Fuchs urged students to allow Spencer to speak without backlash: "They want you to yell and scream, you're doing what they want you to do . . . My hope is that students stay away and not fall for it."
According to The Root, "Spencer is expected to speak alongside white supremacists Eli Mosley, who leads the hate group Identity Europa, and Mike Enoch, who hosts the 'alt-right,' anti-Semitic podcast The Right Stuff. All three men are known to believe in 'peaceful ethnic cleansing.'"
Many argue that allowing these people to speak at a university, or in any public space, normalizes their hatred. In allowing people to read the other side of the story, University Press of Florida is making it possible for people to get the facts and learn the truth about American history and how it informs the present day.