These Are Trump's Likely Next Executive Orders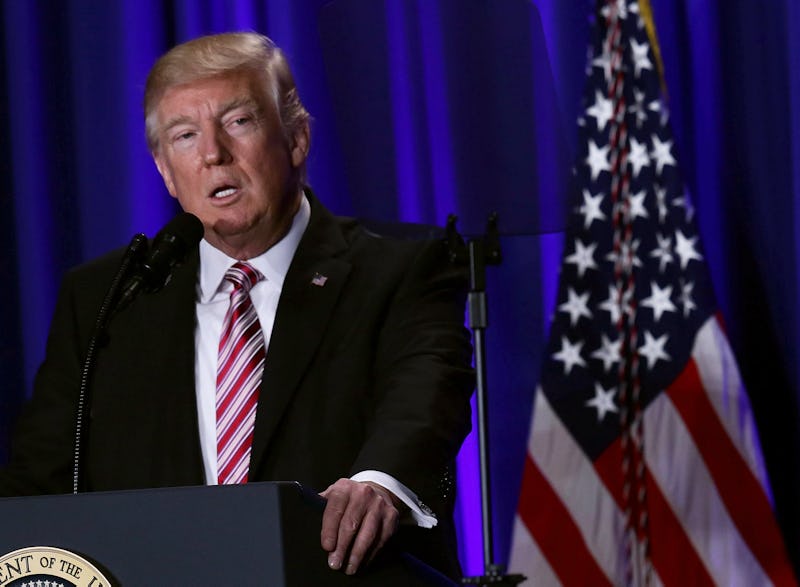 Alex Wong/Getty Images News/Getty Images
As soon as President Donald Trump stepped into his new role, he began implementing some of the promises he made on the campaign trail. That has meant introducing executive orders relating to topics like border security, abortion, and health care. But considering that presidents may pass hundreds, if even thousands, of executive orders during their term, it's basically guaranteed that he will pass many more during his presidency. So, what executive orders might Trump sign next?
For quite some time, Trump has repeatedly insisted that voter fraud is a real problem and recently even suggested that it was the reason he lost the popular vote in the election. So, it came as almost no surprise when White House Press Secretary Sean Spicer told the press Thursday that Trump plans to sign an executive action about voter fraud.
We don't yet know when the president will issue the order, or what exactly will be investigated, but Trump himself has given us a hint on his Twitter. He said on Wednesday that his investigation would include those registered to vote in two states, which incidentally is a group that includes his daughter, son-in-law, and Press Secretary Spicer. We'll have to wait to see what becomes of the investigation, as well as how urgently Trump wants it to begin.
As for other potential actions, Trump will potentially sign up to three executive orders on Friday, dealing with the military and refugees.
The Washington Post obtained a draft of an executive order regarding the military. It shows intentions to expand the military, spending funds on more Special Operations forces as well as modernizing the country's nuclear arsenal by shifting money from programs that aren't as high of a priority.
According to the Post, the action will also call for Defense Secretary James Mattis to implement a "ready review," which would be a 30-day examination of what the United States would need for a war against the Islamic State and "other forms of Islamic terror." In addition, it will have Mattis identify options for operations against "near-peer competition," which generally includes Russia and China.
Another part of the draft calls for the Pentagon and Office of Management and Budget to create a "military readiness emergency budget amendment," which would allow for more military spending. Mattis would also need to propose a 2018 budget within 90 days and create a new strategy by next year to strengthen the military, especially in terms of weapons and cyber security. However, this is only a draft, so whatever action Trump eventually decides on could vary from this summary.
In regards to a potential refugee order, The Atlantic reports that Trump intends to severely reduce the number of refugees permitted to enter the country for a period of time. According to a draft of the order, it would halt refugee admissions for 120 days.
For Syrians specifically, it would be an open-ended suspension. After the initial 120 days, the United States would accept 50,000 people, which is on the lower end of the scale of how many refugees entered the country per year under the previous administration. It's also half the number that the country was scheduled to accept in 2017. The Atlantic notes that the proposed 50,000 would be the lowest number of refugees accepted since 2007. The United States accepted about 10,000 refugees from Syria in 2016.
Although Trump claimed Syrian refugees are potentially dangerous during his campaign, the fact is that many refugees are fleeing a dangerous situation at home, and as The Atlantic reports, the refugee screening process in our country is an extensive one. The U.S. government places more emphasis on the screening of refugees than any other immigration group and has the power to reject people because issues like health, criminal charges, and links to terrorist activities.
Typically, each case takes from a year and a half to two years to be fully processed. So the United States is not just letting everyone from around the world just float on in. There's a specific process that takes place, but unfortunately, a large group of people becomes vilified because of a very small group of people's actions and leads to us closing off refugees, as it would should the executive order be enacted.
According to Vox, another executive order could restrict people with visas from largely Muslim countries from entering the United States for 30 days. These could potentially include Iran, Iraq, Libya, Somalia, Sudan, Syria, and Yemen. While people from these countries don't amount to a large number of those entering the U.S., they are a large percentage of the refugee admissions.
Overall, it sounds like both of these actions would be a very restricting order on immigrants of all types, but especially on the most vulnerable people, including Syrians who have faced a dangerous civil war in their country.
It's important to note that we don't know what exactly will be in Trump's upcoming executive orders, and that what we have to go on right now are only drafts and comments that Trump and his team have made about future orders. Ultimately, the final product of the actions will be revealed when they're signed by the president.