The USA Gymnastics Leader That Simone Biles & Aly Raisman Called Out Has Resigned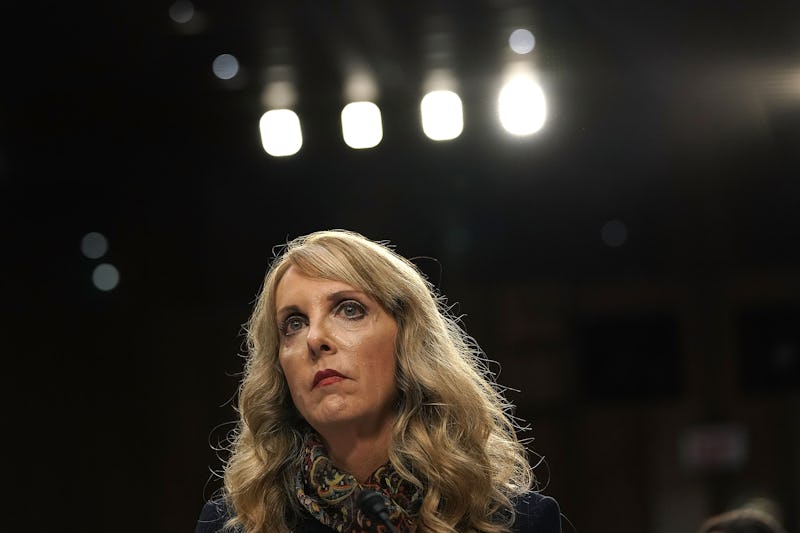 Alex Wong/Getty Images News/Getty Images
Kerry Perry didn't start her job as the head of USA Gymnastics in the best of circumstances, but the prevailing opinion on her nine-month tenure seems to be that she didn't adequately deal with the problems facing the organization. On Tuesday, then, it was reported that Perry was forced to resign from USA Gymnastics after the scandals simply got to be too much.
While the organization has not yet pointed to any specific reason for her departure, the Southern California News Group noted that the precipitating event seems to be the departure of Mary Lee Tracy, who was hired as the director of the women's elite development program and then forced to resign only four days later. ESPN reported that Tracy was forced out after she inappropriately tried to contact Olympic champion and sexual assault survivor Aly Raisman. Afterward, U.S. Olympic Committee CEO Sarah Hirshland publicly called for changes in USA Gymnastics' leadership.
Perry's resignation, though, is coming months after Raisman and fellow Olympic champion Simone Biles registered their own complaints about Perry's leadership. In July, Raisman told the media that Perry still hadn't reached out to her despite spending almost seven months in office.
"She says she's met with survivors, but I haven't met one that's met with her," Raisman said.
This was six months after Raisman had already effectively issued a warning to Perry during her impact statement at former team doctor Larry Nassar's sentencing hearing in January, according to Refinery 29:
Kerry, I have never met you, and I know you weren't around for most of this. But you accepted the position of president and CEO of USA Gymnastics, and I assume by now you are very well aware of the weighty responsibility you've taken on. Unfortunately, you've taken on an organization that I feel is rotting from the inside, and while this may not be what you thought you were getting into, you will be judged by how you deal with it.
Biles also spoke out against Perry and the job she was doing in August before the U.S. championships in gymnastics, according to USA Today.
"Hopefully [USA Gymnastics is] going in the right direction, but nobody can know until Kerry Perry speaks up. So it's kind of hard," Biles said, later adding that Perry needed to be making more public statements on the organization's progress.
"It's her job," Biles said, according to USA Today.
In a statement on Perry's resignation, USA Gymnastics thanked Perry for her service and said that the organization was "in the midst of a major transition."
"In the wake of horrific events that have impacted our athletes and the entire gymnastics community, USA Gymnastics has made progress in stabilizing itself and setting a new path to ensure that the safety and interests of our athletes remains at the heart of our mission," said Karen Golz, the organization's board chair.
The choice of Perry as USA Gymnastics head was always a curious one, the Southern California News Group reported, because of her background in marketing. This exhibited the organization's priorities, critics said: rebranding rather than actually creating a safer and more supportive environment for the athletes themselves. Perhaps their next pick won't draw so much criticism from the athletes at the core of USA Gymnastics.