Vicki's Friends Abandoned Her In Iceland On 'Real Housewives' & Even Her Haters Are Pissed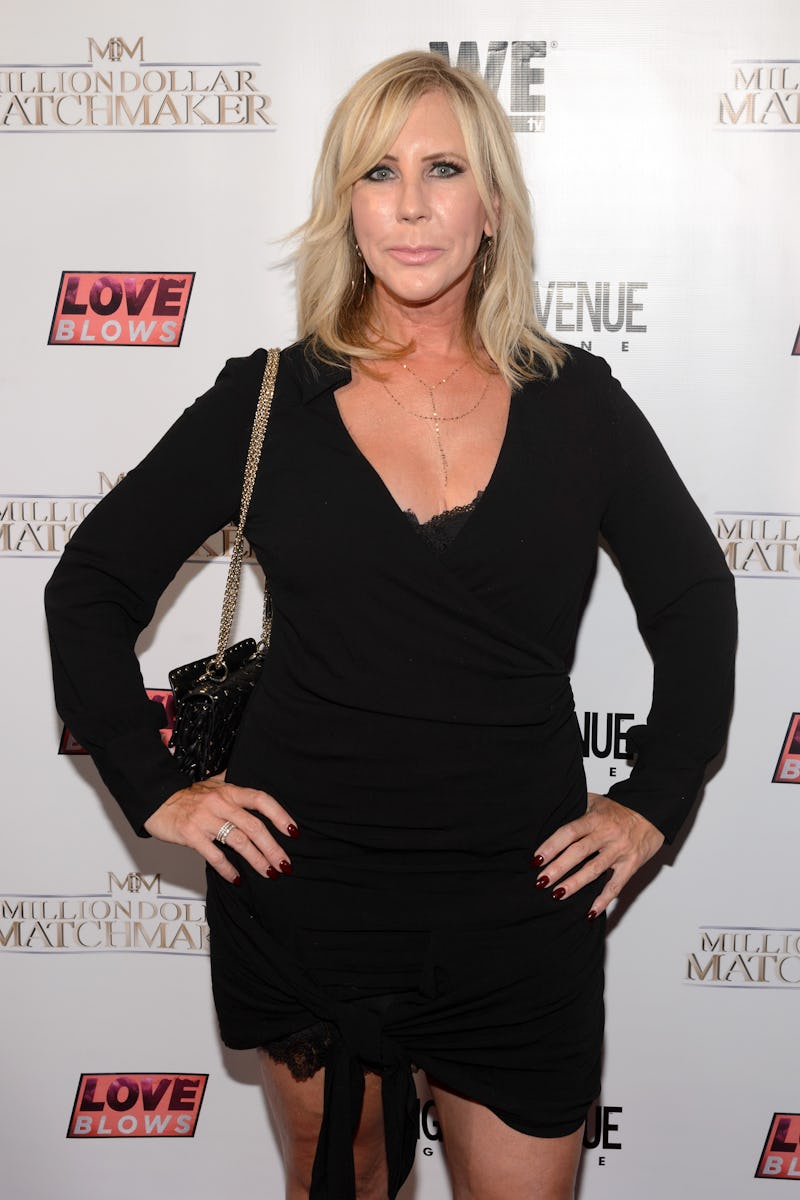 Daniel Boczarski/Getty Images Entertainment/Getty Images
Last season on The Real Housewives of Orange County, the ladies were offended when Shannon Beador and Meghan Edmonds did not visit Vicki Gunvalson in the hospital after her dune buggy accident. Vicki got sick in Iceland on RHOC. And apparently no one learned a lesson from that previous experience because most of the RHOC cast members finished their dinner instead of visiting her in the hospital.
After leading the group in a prayer for Vicki's recovery, Lydia McLaughlin went to the hospital with Vicki after it was believed that she might be having a heart attack. Peggy Sulahian went soon after. On the other hand, Tamra Judge, Kelly Dodd, Shannon, and Meghan prioritized eating a nice dinner. It was just so unexpected after the Glamis dune buggy incident last season, and not very sympathetic. Shannon and Meghan got so much heat from the fans, Vicki, Kelly, and Tamra before, so why would they follow suit this year — and in a foreign country at that?
Yes, everyone does have to eat, but no one was starving on that trip. Couldn't they have just gotten their food to go? They could have had it delivered to the hospital. They could have eaten in the hospital cafeteria. Instead, they decided to sit down for a group dinner with zero sense of urgency. They even discussed how it was so wrong to not visit Vicki in the hospital the year before. Yet, they seemed to be fine with repeating that history.
Then they ordered a Vicki a casserole from the restaurant (which was a surprising thing to find in Iceland) after years of Vicki begging for her friends to bring her casseroles during rough times. Was this food gift a genuine way to make things up to Vicki, or were her friends just mocking her?
Yes, Tamra, Meghan, and Shannon aren't on the best terms with Vicki, but there was definitely a lack of compassion there. How could they not step up for someone they've known for years or just a human being in general? It was also surprising that Kelly (Vicki's go-to girl) wasn't at the hospital with her.
Even viewers were outraged by the women skipping out on the hospital visit for a second year in a row. And they were not at all shy about sharing their thoughts on Twitter:
This Happened Again
How did Kelly and Tamra skip out after getting so angry with Meghan and Shannon last year? Hypocritical much?
Peggy Was Right
How did anyone get mad at Peggy for wanting to go to the hospital? This is (pretty much) the one time Peggy is on the right side of history, yet no one seemed to care.
No One Should Choose Food Over Friends
Going to the hospital was just the decent thing to do. How did they even consider not going, let alone actually skipping out?
Lydia Was Right
Preach.
Friends Don't Do This
Especially in another country, where they don't know anyone.
These Women May Not Be Friends With Vicki, But They Are Coworkers
They are all on this show together. They've been through a lot.
Even The Vicki Haters Can't Believe This
Love Vicki or hate her, this was just a messed up thing to do.
What's Up With Kelly?
It's nice that Kelly has been getting along with the other women this season, but she is Vicki's one true friend in the cast. It's so shocking that she stayed behind.
Vicki has been beyond polarizing over the years, but she is a human being, a part of this group, and an original cast member on this show. These shocked fans know that eating dinner before making sure that she was alright was a really uncool thing to do. It'll be hard for Vicki to forgive and forget. Again.