Watch BJ The Chicago Kid Sing The National Anthem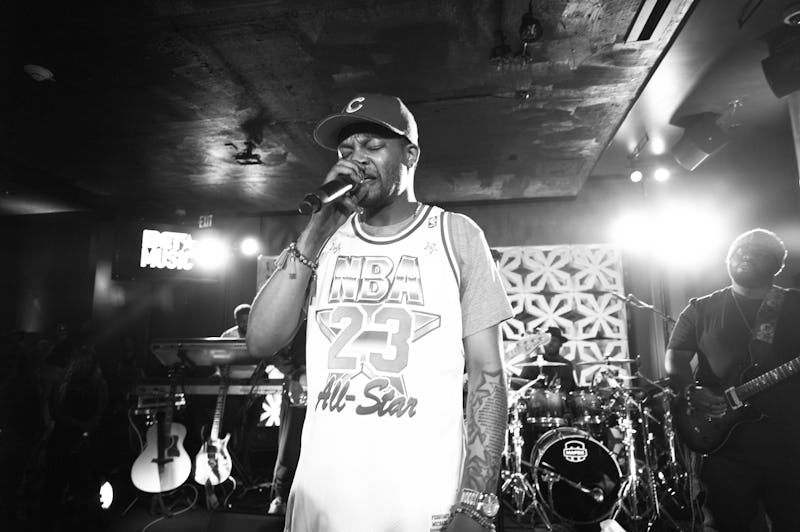 Earl Gibson III/Getty Images Entertainment/Getty Images
Barack Obama's farewell address in Chicago started off on a powerful note Tuesday evening when BJ the Chicago Kid belted out the National Anthem ahead of the president's speech. News that the 32-year-old singer, songwriter was chosen for the honor was kept under wraps until BJ announced his involvement via Facebook earlier in the day. Making his fans and hometown proud, Chicago native BJ the Chicago Kid delivered a rendition of the National Anthem that was enough to bring tears to any viewers' eyes.
Though BJ released his debut album Pineapple Now-Laters in 2012, he came to more widespread attention in 2016 with the release of his second album In My Mind, featuring industry heavy hitters like Kendrick Lamar and fellow Chicagoan Chance the Rapper. And though he has performed on such shows as Conan and The Tonight Show before, his latest showing at Obama's farewell address may mark one of his biggest television audience exposures yet.
Pearl Jam frontman Eddie Vedder also performed before Obama's address, joined onstage by the Chicago Children's Choir. And while their performance was also a rousing one, BJ the Chicago Kid undoubtedly stole the show with his singing talents. (That is, until Obama took the stage.)
Judging by reactions on Twitter, many people were feeling BJ's performance.
Obama is known for having popular African-American artists perform at his official events. Kendrick Lamar and Janelle Monae performed at his 55th birthday party. And who can forget when Beyoncé sang the Star-Spangeld Banner at the president's inauguration in 2013? Beyoncé's sister Solange was also called upon to lend her musical talents to Obama's farewell party at the White House on Jan. 6.
The president, who seems to have an easier time than the president-elect when it comes to booking big-name performers, is also known for his great taste in music. He has released a number of popular playlists and even joked about working at Spotify after he leaves office. The music streaming company responded by posting a job listing for "President of Playlists" on the career page of their website.
As expected, Obama's track record of having talented artists to perform on the national stage continued with his inviting BJ the Chicago Kid to sing the National Anthem Tuesday night. And BJ did not disappoint. He assuredly gained some new fans.
The next big performance of the National Anthem will be by Jackie Evancho on Jan. 20 at Trump's Inauguration Ceremony. And while it's not at all a competition, BJ's rendition will be a hard act to follow.