This Moment Between Michelle Obama & Laura Bush At McCain's Funeral Is So Sweet — VIDEO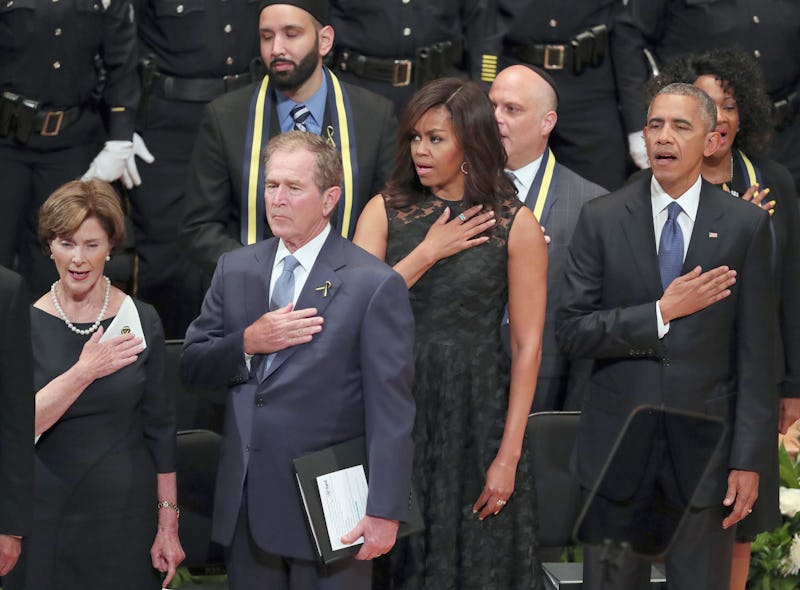 Tom Pennington/Getty Images News/Getty Images
As family, friends, and colleagues paid tribute to Arizona Sen. John McCain in a ceremony at Washington National Cathedral on Saturday, viewers watching a livestream of the memorial service spotted what many hailed as the best example of bipartisanship yet. In a blink-and-you-missed-it moment, Laura Bush passed a small candy to Michelle Obama with a little help from former President George W. Bush.
In a clip from McCain's memorial service, Bush can be seen taking a small item — believed to be a mint, a cough drop, or a piece of candy — from his wife and deftly passing it to Michelle, who whispers "thank you."
On Twitter, a number of people cheered the interaction as evidence of the spirit of friendly bipartisanship badly needed in politics — a spirit McCain had sought to infuse into his memorial services. "I'd like to think that moments like this between W. Bush and Michelle Obama are what McCain was hoping for," one user noted.
Another user called the moment "a sweet & hard metaphor for all we have lost in politics." A third joked the pass "might be the most amazing thing I've ever seen." And another Twitter user claimed that watching the exchange between the Michelle, George, and Laura was "warming my heart."
Although Michelle and George hail from parties with markedly different political agendas, they reportedly enjoy a warm and close friendship. In 2016, they captured headlines when they shared an affectionate hug during a dedication ceremony for the Smithsonian's National Museum of African American History and Culture. Since then, the pair have been photographed multiple times during what appear to be sincere moments of friendship and camaraderie.
Last year, in an interview with People, George said he felt a genuine fondness for Michelle. "She kind of likes my sense of humor," he said. "Anybody who likes my sense of humor, I immediately like." The former president went on to explain that his friendship with Michelle had developed organically after the pair were routinely seated next to each other at official functions.
"I needle her a little bit," George told the magazine. "And around her, I'm fairly lighthearted. [The Obamas] are around serious people all the time and we just took to each other."
But George has admitted to being aware of how surprised some were to learn of his friendship with former first lady Michelle. "[Our friendship] surprised everybody," he said in a 2017 interview with talk show host Ellen DeGeneres. "That's what's so weird about society today, [that it's surprising] that people on opposite sides of the political spectrum can actually like each other."
But Saturday's memorial service for McCain wasn't just a moment for the former president to reconnect with his most-unlikely friend over a shared candy. Later in the service, George delivered a eulogy for McCain in which he remembered the late senator as a "courageous" man "who lived by a set of public virtues that brought strength and purpose to his life and to his country."
"Wherever John passed throughout the world, people immediately knew there was a leader in their midst," Bush said. "In one epic life was written the courage and greatness of our country."