Villanelle's 14 Best 'Killing Eve' Lines Show She's Just As Funny As She Is Twisted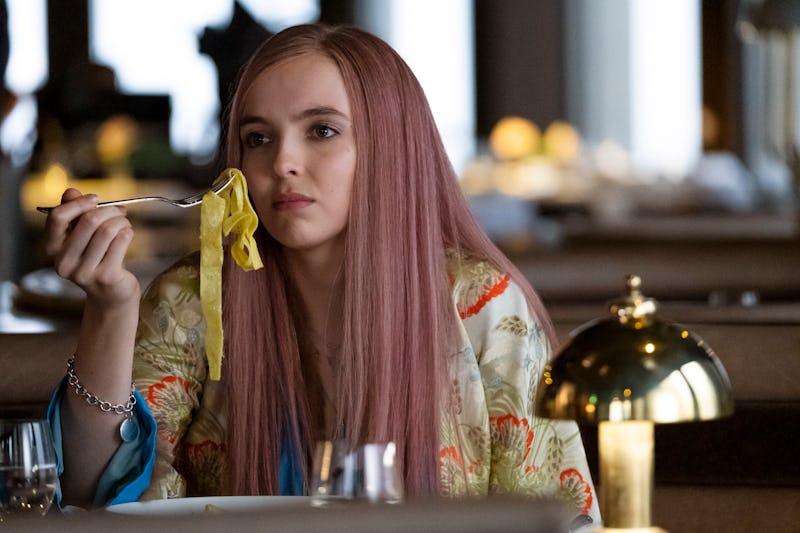 Gareth Gatrell/BBCAmerica
Spoilers ahead for Killing Eve Season 2. It's no secret that Villanelle (Jodie Comer) is a psychopath. Everyone knows that — Eve included — but there's something so magnetic about her that it's hard to stay away. Not only is she devastatingly funny, but she doesn't adhere to social mores and often acts spontaneously. It's riveting to watch her burst into laughter at a completely inappropriate moment, yell at a child, or declare that she loves listening to national anthems. And Villanelle's best quotes on Killing Eve are just as colorful, inappropriate, and hilarious as she is.
Make no mistake — Villanelle is still a natural-born killer. We're reminded of this in the May 19 episode when she knocks out Eve's husband, Niko, and kills his co-worker/would-be girlfriend. She appears to do all of this just as gleefully as when she manipulated and killed Julian earlier in the season, or when she offed a man in public during the farmyard fetish show she put on in Amsterdam's red light district. No remorse.
Underneath all of her psychopathy and inexcusable actions, though, Villanelle is a charismatic person with a truly bizarre (but still somehow hilarious?) sense of humor. So although we may not be able to understand her, we sure love watching her deliver all those diabolically funny lines. Here are some of her best so far.