Another Runner Was Killed & It Highlights How Dangerous It Can Be To Exist As A Woman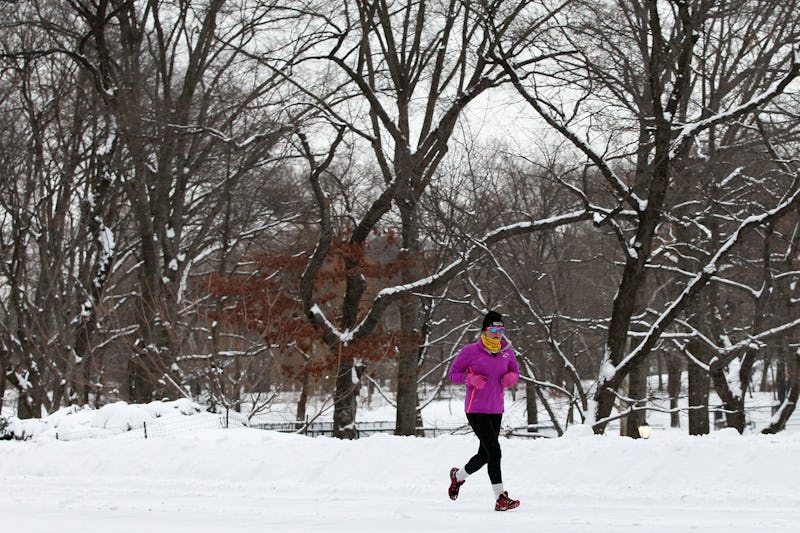 Alex Trautwig/Getty Images News/Getty Images
Exactly two months after Mollie Tibbetts disappeared from a Brooklyn, Iowa neighborhood, Wendy Martinez was fatally stabbed in Washington D.C. These women never returned from their jog — an activity that many people don't think twice about. But violence against female runners highlights just how dangerous it can be to exist as a woman or femme — regardless of where you live.
Martinez, 35, was stabbed while running through D.C.'s Logan Circle neighborhood Tuesday night, The Washington Post reports. Police believe she was attacked by a stranger before she staggered into a restaurant around 8 p.m., where customers tried to help her. A 23-year-old man was arrested in relation to her death on Thursday after the police discovered a surveillance video placing him in the area Martinez was attacked, Washington D.C. Police Chief Peter Newsham told Fox News.
Just a week before her death, Martinez got engaged. "She was living the most beautiful moment in her life; it was the happiest last seven days," her mother, Cora Martinez, told The Post.
Martinez's death, while tragic, isn't an anomaly. In a 2016 Runner's World survey asking readers how often a stranger whistles at them, comments on their body, or gives other unsolicited sexual attention, 43 percent of women said they experienced this behavior, compared to 4 percent of men. While the survey focused on harassment that wasn't life-threatening, the results shine a light on the troubling way women are treated while running.
Tibbetts' disappearance this summer brought the issue into the national spotlight. The 20-year-old was reported missing in July after she didn't show up for work the day after going for an evening jog, CNN reports. When her body was found a month later, a 24-year-old man was arrested for her murder.
Although Newsham called Martinez's stabbing "one of those unsettling incidents that sometimes happens in large cities" during a Wednesday news conference, Tibbetts was killed in rural Iowa. The truth is, women are killed by men in cities large and small — often by current or former intimate partners, and sometimes while out for a run.
In 1989, the brutal rape of a 28-year-old woman who had gone for a jog in Central Park became a national scandal. She was in a coma for 12 days after she was beaten in the park, though she survived the attack. All these years later, running alone can still be incredibly dangerous for women.
The deaths of three female runners in 2016 again brought the issue to the forefront. Ally Brueger was shot and killed while out for an afternoon jog in Michigan. Karina Vetrano was murdered just a few days later after going for a run in Queens. Less than a week after Vetrano's death, Vanessa Marcotte was killed while running in Massachusetts.
All these deaths point to the fact that women can be put in danger even during the most mundane activities, like exercising. People often run alone as a form of meditation — a way to escape the stresses of everyday life. Yet women still aren't given the freedom to face the world alone without also facing the possibility that they could be physically harmed.