Volunteer At These 7 Feminist Organizations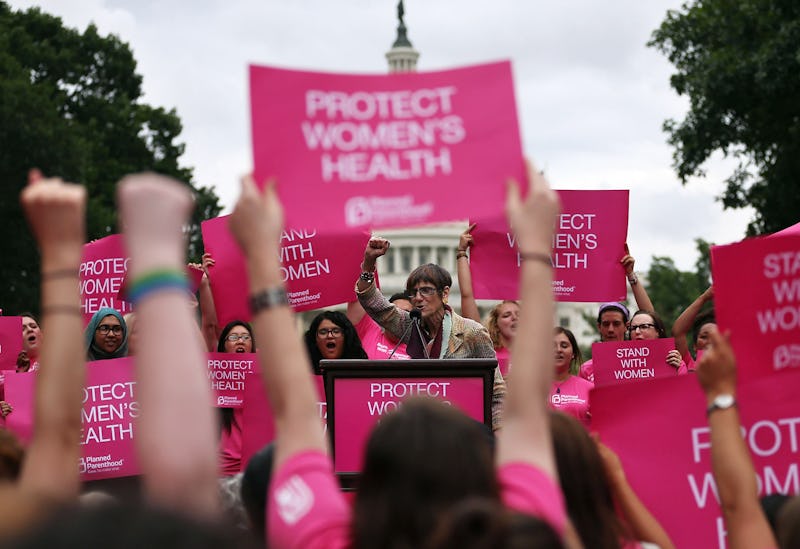 Mark Wilson/Getty Images News/Getty Images
Planned Parenthood is the largest reproductive health care provider in the United States, and as the GOP's recent actions have made clear, they need a major continued show of support to be able to do their important work over the next four years. However, they are not the only organization fighting for women's health, reproductive and sexual health, and safe access to abortions. Pro-choice activists are working in every state in the country, and even those in the most progressive ones need your help. But if financial support isn't what you are looking to give right now, offer a reproductive justice organization your skills as a volunteer.
Organizations needing support, both locally and nationally, are just a Google search away. And while many national organizations like NARAL and Planned Parenthood have local chapters, others are unique to the communities and regions that they serve. Each group will have its own specific needs, but there are a few volunteer jobs you can expect to be widely needed, especially as the GOP's efforts to make safe abortions inaccessible continues. And you can bet that the work of volunteers will be especially crucial in rural areas and restrictive states like Ohio, Louisiana, and North Dakota, among others. Here are just some of the ways you can volunteer to support reproductive justice in your local community.
Pro-Choice Clinic Escort
Escorting patients to and from their appointments is perhaps the most well-known volunteer opportunity clinics have. However, it's not for the faint of heart. Escorts and the patients they walk with are the targets of verbal abuse from anti-abortion protesters and situations can easily become dangerous. Still, escorts are often the only barrier between protesters and patients and can be the difference between a patient getting the procedure they need and opting not to because of threats and harassment. Not all clinics have escort volunteer opportunities, but be sure that those that do really, truly need them.
Canvasser And Phone Banker
Are you not afraid to talk to people? Do you want to help share information about and raise funds for reproductive justice efforts? Your local nonprofit could probably use your help canvassing or calling potential supporters on the phone. Fundraising is essential to keeping these organizations alive, and even if you can't make a big gift yourself, you can help encourage many more others to give. And if talking to strangers is a skill you are hoping to build, canvassing and phone banking for a good cause is a great way to practice.
Administrative Helper
Office volunteers can be lifesavers for nonprofits, especially those with small staffs. In looking into volunteer opportunities at clinics and advocacy organizations near you, you may find they need help with behind-the-scenes tasks like filing, data entry, and sending out batches of mail. Using your free time to sort through paperwork may not seem like a big action, but in some places volunteering in the office gives other staff members the opportunity to continue doing their important work. If you want to help out, but are looking for a quieter way to do it, offering your administrative work skills is likely to be much appreciated.
Attend Abortion Doula Training
Abortion doulas and support workers assist people before, during, and after abortion procedures. They do everything from helping their clients come up with a list of questions to ask their doctor, coordinate rides to and from appointments, be there for clients during their procedures, and check up on them afterward to offer emotional and practical support as needed. Their work attempts to combat not only the tangible barriers to abortion but the stigma surrounding it as well. If you live in a major city there is probably an abortion doula training happening sometime near you. There you will learn skills to become an abortion doula as well as learn how to use those new skills to serve others.
Attend A Resources Hotline Training
Hotlines such as Backline and the NAF hotline are many people's first sources for reproductive health and pregnancy resources in their area. And as access to abortions becomes harder and harder, calls to these services are likely to go up along with the need for people to answer them.
Share Your Experience In An Abortion Support Group
Abortion is normal, but societal stigma against it causes much undue suffering for those who get the procedure. If you have had an abortion and are able to talk about it, you can be a big help to others who may need support. Volunteering in a post-abortion support group or talk-line is can be a good opportunity to connect with people face to face and combat abortion stigma.
Propose Your Own Way To Help
Sometimes, organizers are so busy doing their work that they don't see areas in which they could use some free help. If you're not sure what to do, but know you want to help a reproductive justice organization or abortion clinic, look to your own talents for ideas. Could you help take photos or do artwork for an organization's media campaign? Are you a musician who can provide tunes to drown out anti-abortion protesters? The possibilities are endless. And while not every organization may take you up on your offer, it never hurts to ask. (But please, ask before doing!) You never know how your individual talents may be put to good use.
So even if you can't give money, donating your time in these various volunteer positions is a great way to show support.