Bernie Sanders Spoke Out Against The Travel Ban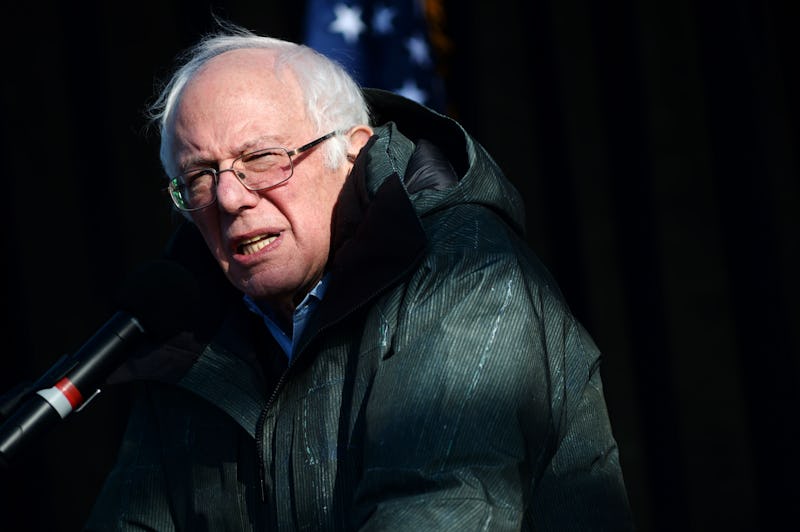 Rachel Woolf/Getty Images News/Getty Images
On Monday night, Congressional Democrats headed to the steps of the Supreme Court to draw attention to their opposition of President Donald Trump's executive orders on immigration and refugees. Among those gathered were Sen. Elizabeth Warren, Senate Minority Leader Chuck Schumer, and House Minority Leader Nancy Pelosi, who took turns calling out Trump. Largely, though, their messages were drowned out by the noise of the huge number of protestors in the crowd, POLITICO reported. But that didn't stop one senator — a favorite of many — from speaking directly to his supporters on Twitter. Bernie Sanders spoke out strongly against the travel ban, calling it unconstitutional.
Sanders uploaded the video after a day of criticizing Trump's policies via Twitter. Earlier on Monday, he wrote:"On virtually every major issue, Trump represents a minority of Americans. Our job now is to bring the majority together and fight back," before calling protestors to turn out to the SCOTUS steps that evening with a link to the event's Facebook invite.
The senator's strongest words, though, came in this video, seemingly shot at the protest. "Here today in Washington, and all over this country, I think more and more people understand that what President Trump did in his ban on foreign-visit is un-American, it's unconstitutional, and it's something that is gonna make us less safe, not more safe," Sanders said.
Then he got to the heart of the matter, explaining what this says about the country and American values:
This country has always been a country that welcomes people into our nation — and, of course, we've got to vet people and make sure they're not going to do us harm. But to tell over a billion Muslims in the world that they are not welcome to come into the United States sends a horrible message, and something that runs absolutely contrary to American values. I hope very much that President Trump rescinds that ban.
Some 2,800 people RSVPed on Facebook to the weekday protest, with nearly 9,000 more interested. Sanders' online message was probably the way to go though. The Washington Post reported that communication problems hampered the Democrats' ability to rile up the crowd — not that they didn't try. "This order is against what we believe in in America," Sen. Schumer (D-N.Y.) told the crowd, according to CNN. "The order will make us unsafe. The order will make us inhumane."
Another familiar face in the crowd was Sen. Cory Booker, who was greeted by chants of "Warren-Booker 2020." Booker didn't post his thoughts from the rally on Twitter, but the Post quoted him. "When someone attacks Muslim Americans, they attack all of us," Booker told the crowd.
Sanders, and all the senators, will need to learn how to work with the protestors that are popping up in response to Trump's extreme executive orders. The kind of resistance seen in the streets needs to also be seen on Capitol Hill.