Ryan Gosling Couldn't Stop Breaking Into Laughter On 'SNL' & These Videos Will Make You Crack Up Too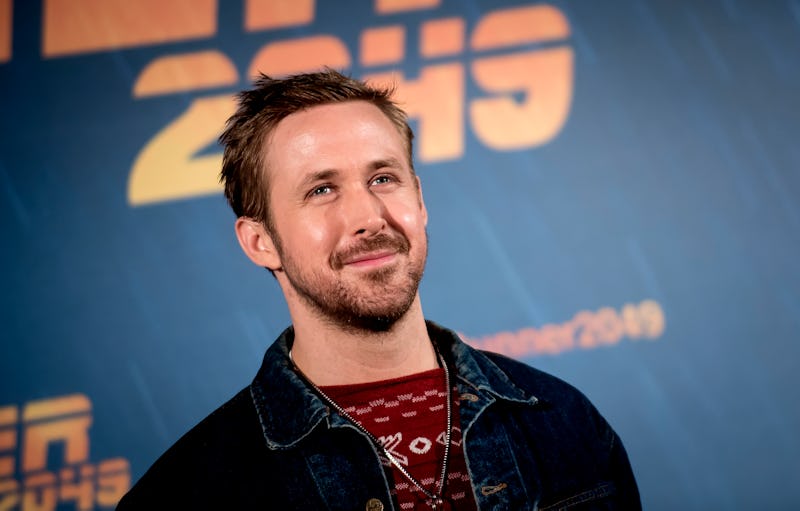 Samuel de Roman/Getty Images Entertainment/Getty Images
Ryan Gosling is known for many of his notable dramatic movie roles, but on NBC's Saturday Night Live, the actor seems to always get a case of the chuckles. The audience got to watch Ryan Gosling break character on SNL many times as he hosted the show's Season 43 premiere on Saturday, Sept. 30. It happened so often during the episode that it became an endearing and fun part of the night, seeing what could make Gosling break again and again. And as viewers found out, the Oscar-nominated actor seems to just get the giggles around the hilarious SNL cast.
Gosling's reputation for breaking character on SNL began in 2015, when the actor first hosted the show. He appeared in the recurring sketch about three alien abductees being interviewed at the Pentagon and he couldn't stop laughing. In his 2017 appearance, Gosling broke in another version of that very sketch — which included cast member Kate McKinnon grabbing his butt this time — along with so many other sketches. While watching the episode, it felt like being on Ryan Gosling Laugh Watch was best part, just to see what would make him giggle — and how much. It's comforting to know that even Gosling can't help but laugh it up in the presence of so many funny people.
Gosling isn't the only one who has gained a rep for breaking character in hilarious moments. Former SNL cast member and current host of The Tonight Show Jimmy Fallon was well-known for his breaks in character and laughing fits while he starred on the sketch comedy series.
Laugh right along with Gosling in the following hilarious moments.
When Kate McKinnon Got Up Close & Personal
SNL wasted no time and got Gosling back into the situation that made him break the first time. This time, though, McKinnon gets up close and personal with Gosling's backside while describing her encounter with aliens. Even though his back is to the audience, you can tell that the actor seems to be laughing hysterically. Even cast member Aidy Bryant breaks character after the, ahem, close encounter.
When He Couldn't Get Through His Line Without Laughing
Gosling broke character even after McKinnon's close encounter and seemed to struggle to get his line right amid uncontrollable laughter.
When He Faced Off With A Chicken (Person)
In an old-time movie sketch called "Henrietta & The Fugitive," Gosling came face to face with Bryant, dressed as a bonnet-wearing chicken who happens to be his lover, and he could not help but break into giggles. Even Kenan Thompson laughed it up in the sketch, which was so wacky and weird that it almost seemed designed to get Gosling to break. If so, mission accomplished.
When He Cracked Up Part Of A Band
As the "rock 'n roll flute" to Thompson's lead singer, Gosling repeatedly gets the chuckles as Thompson sings about Colin Kaepernick and "good jeans." Thompson and Gosling's characters also try to solve their roommate issues on stage as well.
When He Tried To Hide It
Gosling's flute player didn't seem to be too solid, since he was cracking up as he played the instrument. But he did make it through the solo to enthusiastic applause.
When He Held Back Laughter In An Italian Restaurant
You can see Gosling crack a smile and hold back giggles as Cecily Strong talks about her favorite Italian restaurant (which doesn't actually exist). A few seconds later, he definitely lets out a chuckle in a dramatically funny moment.
SNL's new season is off to a funny start, but Gosling breaking character throughout the episode really stole the show.