This Senator Literally Calls "Bullsh*t" On The GOP's Claims About Christine Ford — VIDEO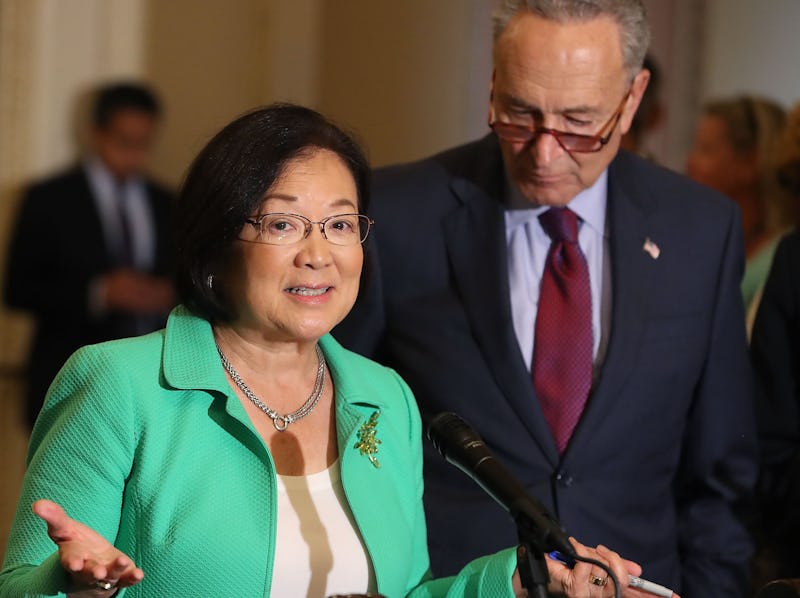 Mark Wilson/Getty Images News/Getty Images
This senator has had enough. Hawaii Sen. Mazie Hirono is on video calling BS on Republicans in response to their claims that Senate Judiciary Committee members have done everything to contact Christine Blasey Ford regarding her sexual assault allegation against Brett Kavanaugh (which he denies). Hirono — a Democrat who has served Hawaii since 2013 — told ABC News on Wednesday that a letter from Judiciary Committee Chairman Chuck Grassley was "bullsh*t."
"The latest being a letter from the chairman to the Democrats saying, 'We've done everything we can to contact her.' That's such bullsh*t, I can hardly stand it," Hirono told ABC News. On Wednesday, Grassley sent a letter to Ford's lawyers asking her to reconsider the invitation to publicly testify on Monday or talk with the committee privately.
"The Committee's standard procedure for supplemented background investigations is to conduct phone or in-person interviews with the relevant parties to discuss the underlying issues," Grassley wrote. "To that end, Committee staff has attempted to contact you directly by phone and email several times to schedule a call at a time convenient for you and your client."
The letter also states there is a deadline if she wants to testify: "And I remind you that, consistent with Committee rules, Dr. Ford's prepared testimony and biography are due to the Committee by 10:00 a.m. on Friday, September 21, if she intends to testify on Monday." Ford, through her lawyers, has said the FBI should investigate the incident before she testifies, according to CNN.
Kavanaugh has denied Ford's allegation since it became public knowledge last week, but before Ford's name came out. "I categorically and unequivocally deny this allegation. I did not do this back in high school or at any time," Kavanaugh said in a statement given by the White House on Friday, according to the Associated Press.
On Wednesday night on an interview on MSNBC's The Rachel Maddow Show, Hirono said she supports a FBI investigation into Ford's allegation against Kavanaugh. She called the committee's actions had a "by the seat of their pants" feel.
Kavanaugh's confirmation is important to Republicans because the Supreme Court's next term begins in October, Hirono said. "They are in a rush to get this man on the court," she said.
Ford's allegation brings to the light the lack of procedures in place for vetting candidates with regard to sexual harassment. This is something Anita Hill pointed out in a column for the New York Times on Tuesday.
"That the Senate Judiciary Committee still lacks a protocol for vetting sexual harassment and assault claims that surface during a confirmation hearing suggests that the committee has learned little from the Thomas hearing, much less the more recent #MeToo movement," Hill wrote, referencing her own experience with the Judiciary Committee when she came forward with allegations against then-Supreme Court nominee Clarence Thomas.
Despite the support from lawmakers like Hirono — and female celebrities around the country — Ford has had to endure relentless harassment. Ford has received death threats and had to leave her home, according to the Guardian. Despite all of this, it appears as if a FBI investigation into her claims won't be happening at this time.