Taylor & Derek's Relationship Has Only Gotten Stronger After 'Paradise,' Based On These Adorable Photos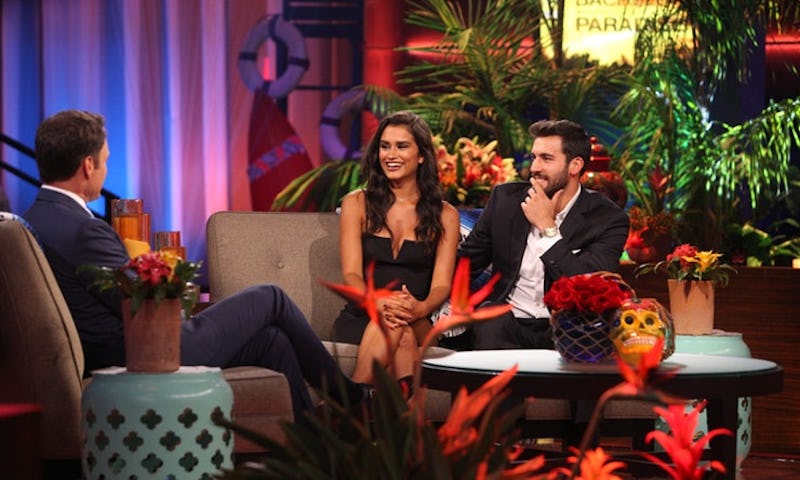 Paul Hebert/ABC
Throughout the years, the Bachelor franchise has formed several couples whose relationships fans continue to root for. Take a more recent Bachelor Nation couple, Taylor Nolan and Derek Peth, as an example. They appeared to have a pretty unbreakable bond from the very beginning of Season 4 of Bachelor in Paradise — so unbreakable that it probably didn't surprise anyone when it was announced that they were engaged. So, what are Derek and Taylor up to now? Well, a quick look at both of their social media pages shows that the BiP couple is still going just as strong as ever, even after the cameras stopped rolling.
Taylor and Derek caught up with People a few days after announcing their engagement to talk about life after Paradise and what it was like to meet each other on the show. "We were both skeptical of A) the process and B) of each other," Derek said when asked about what the couple's first impressions of each other were. The two met during their stint on the Bachelor spin-off and had a pretty steady connection, but that's not to say that weren't at least a few small bumps in the road.
When production was shut down on Bachelor in Paradise early on in the summer, the pair wasn't exactly sure what to expect in terms of their budding relationship. But they were able to make it work by FaceTiming each other daily and even planning for Taylor to visit Derek in his hometown in Iowa before it was announced that filming would resume. Derek said,
"It was really cool to be able to see each other in the real world. We had an advantage because we knew what we were getting ourselves into."
Rumors swirled about Derek and Taylor's engagement back in September after the couple and their fellow BiP castmates were seen out in Los Angeles having a night out on the town. The whole crew — which included Raven Gates, Alexis Waters, Dominique Alexis, DeMario Jackson, and a handful of others — appeared to be in really good spirits, giving off the impression that they could possibly be celebrating something. Fast forward to a few weeks later, when the Bachelor in Paradise aftershow confirmed the couple's engagement, and Bachelor Nation could all collectively breathe a sigh of relief (and congratulate the adorable pair).
Since the official engagement confirmation, the couple definitely hasn't been afraid to show their social media followers just how much love they have for each other. Shortly after the aftershow aired, Taylor took to Instagram to share a sweet photo of herself and Derek, carefully posing with her left hand over his heart to show off the Neil Lane ring he picked out to pop the question.
Not long after that, the couple was apparently in Seattle spending time with a few of Taylor's close friends and family members.
Derek mentioned to People that his time in Seattle is what helped him realize that he was in love with Taylor. He said,
"'Paradise' was amazing, I definitely had started to fall in love with Taylor while we were there but once I went to Seattle and saw her friends and family, it definitely was seeing her heart connect with her loved ones and her animals. There was one morning where we were drinking coffee on the porch looking at Mt. Rainier and reflecting and I was dang, I love this girl."
And the couple is still just as happy today as they were a month ago. Just last week, Taylor dedicated an Instagram post to Derek featuring a photo of the two hugging by the side of a snowy mountain. Judging by her caption, which stated that were both sick in bed watching Netflix at the time, the photo was an oldie, though that didn't make it any less sweet. She wrote in the caption,
"'Ain't no mountain high enough...' My favorite part about making this caption is that we just broke out in song, terribly off key, in bed both being sickly and gross watching Netflix but jamming out regardless! You are my best friend, thank you for being with me and thank you for being you @pethderek."
Though they're newly engaged, right now it looks like Taylor and Derek are more focused on getting to know each other as a couple and having fun, instead of rushing down the aisle. And that's definitely not a bad thing.