Here Are The Rules About Carrying Guns On Planes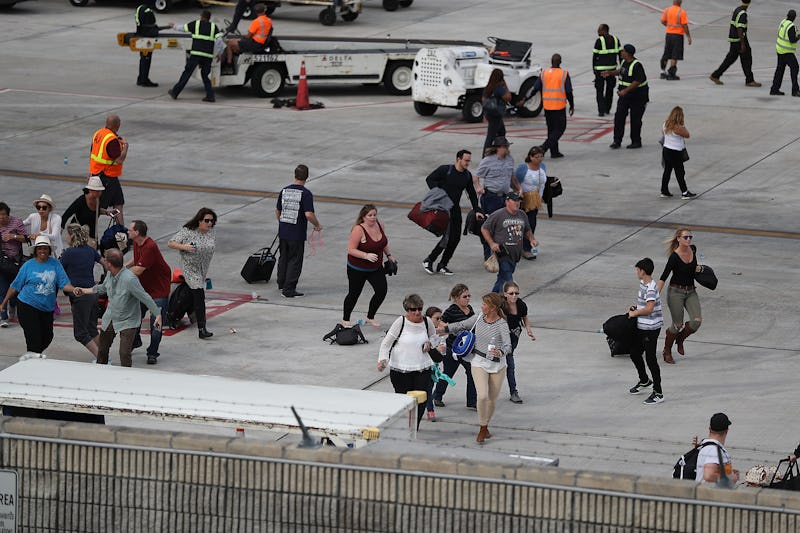 Joe Raedle/Getty Images News/Getty Images
A deadly mass shooting at Ft. Lauderdale-Hollywood International Airport has left at least five people dead, and at least eight more injured, according to the Broward County sheriff. The massacre has left people around the country wondering precisely what happened, and how. And the latest information trickling out may provide an answer. The alleged shooter was reportedly a passenger on a flight from Canada, and he had a gun checked in his bag. Which raises an obvious question: What are the rules about guns on planes?
According to CNN, the alleged gunman flew into Ft. Lauderdale from Alaska via Canada, and had a gun stashed away in his checked bag. When he retrieved it from the baggage claim, he reportedly pulled out the gun and opened fire, setting off the horrendously violent scene. According to local authorities, the people who suffered non-fatal injuries in the shooting have been transported to an area hospital.
The gunman is currently in custody, according to law enforcement, and is being questioned by the FBI in an effort to determine motive. But this latest information underlines the question of air travel policy and guns in luggage, that much is clear. So, what are the rules?
As it stands now, firearms are prohibited from being placed in carry-on bags under Canada's air travel protocols, just like they are in the United States. That should come as no particular shock, as keeping guns out of airline cabins is about as basic a common sense safety requirement for air travel as it gets.
What you might not realize if you're not a gun owner, however, is that firearms are allowed to be transported through the air if they're checked in your luggage, provided you declare them, and certain requirements are met. Here's the provision as stated on the Canadian Air Transport Security Authority (CATSA)'s website:
Firearms, firearm parts, real ammunition and cartridges are not permitted in carry-on baggage under any circumstances. Certain items may be transported in checked baggage if properly packaged and approved by the air carrier. All firearms, firearm parts, ammunition and cartridges must be declared to the air carrier during the check-in process.
The American TSA also permits guns to be transported via checked bags, provided some security requirements are met. Here's the full list of requirements from the agency's official website, quoted verbatim:
When traveling, comply with the laws concerning possession of firearms as they vary by local, state and international governments.
Declare each firearm each time you present it for transport as checked baggage. Ask your airline about limitations or fees that may apply.
Firearms must be unloaded and locked in a hard-sided container and transported as checked baggage only. Only the passenger should retain the key or combination to the lock.
Firearm parts, including magazines, clips, bolts and firing pins, are prohibited in carry-on baggage, but may be transported in checked baggage.
Replica firearms, including firearm replicas that are toys, may be transported in checked baggage only.
Rifle scopes are permitted in carry-on and checked baggage.
The most recent information released by the Broward County commissioner suggests the passenger had a gun and ammunition (ostensibly in separate and locked hard-sided containers, if TSA policy was followed) stashed in a checked bag. Then, after retrieving it from the baggage claim, he reportedly went into a bathroom, loaded it, and then came out and opened fire.
So, assuming all the necessary procedures were followed each step of the trip, it's entirely possible that the gun used to commit this act of mass murder was transported into the Ft. Lauderdale airport entirely legally. Although, until law enforcement's investigation is finished, it's far too soon to safely claim a conclusive knowledge of all the facts.