The Women's March Hashtags You Should Use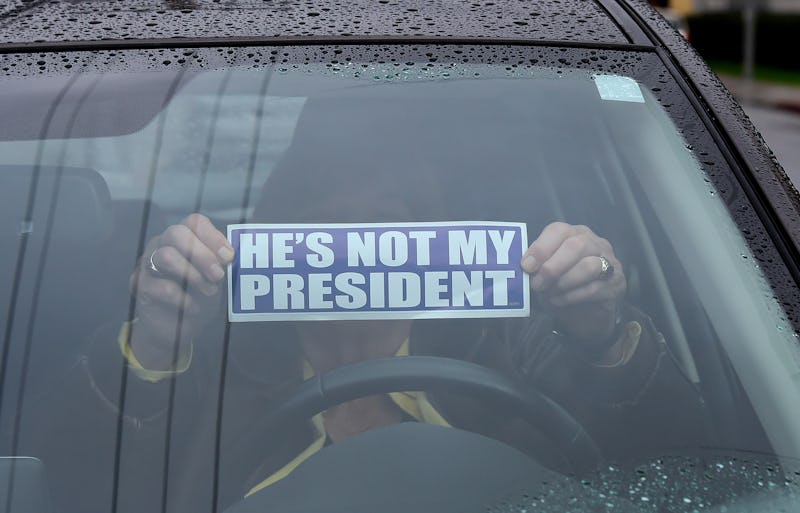 FREDERIC J. BROWN/AFP/Getty Images
The Women's March on Washington is almost here! The event takes place the day after the inauguration, Jan. 21, and more than 200,000 people are expected to show up. You may be wondering how to interact with the marchers on social media, and asking yourself what the Women's March hashtags you should use are.
Luckily, the Women's March has a few they have officially sanctioned. You can use #WomensMarch, #WhyIMarch and #IMarchFor "to tell the various and unique stories that bring people to" the movement, according to the Women's March website. You can also tag the official march Twitter handle @womensmarch, and follow the official Facebook and Instagram pages. The march's organizers have asked people to tag the official handle when posting march photos on social media. So you have several places to get information, whether you're looking for updates, cool pictures of people's feminist signs, bathroom locations, and more.
The women's march also has a free app, available at both the App Store and on Google Play, which you can use to get real-time updates on the day of. And if you can't make it to the D.C. march, you can head to a sister march. Sister marches are taking place in all 50 states, as well as in several international locations.
Some people might not be able to make it out to a sister march either, but that doesn't have to mean you don't participate in the movement at all. The Women's March will be live-streaming the rally, which is scheduled to take place from 10 a.m. to 1 p.m. EST. The rally includes a diverse range of speakers, from Cecile Richards of Planned Parenthood, to CNN commentator Van Jones, and more.
The Women's March hasn't been free of controversy though; it originally came under fire for its name and for being organized exclusively by white women. In its first iteration, the march was called the "Million Woman March," which was the name of a march of solidarity held by black women almost 20 years ago. Once these things were pointed out, the march's name was changed, and diverse women were added to the march's leadership. The march put out a list of guiding unity principles, and its organizers pledged to "stand together in solidarity with our partners and children for the protection of our rights, our safety, our health, and our families -- recognizing that our vibrant and diverse communities are the strength of our country." Hopefully marchers and non-marchers alike can use social media to spread this message of intersectional feminism and solidarity.