The Cause Of The LIRR Train Crash Remains Unclear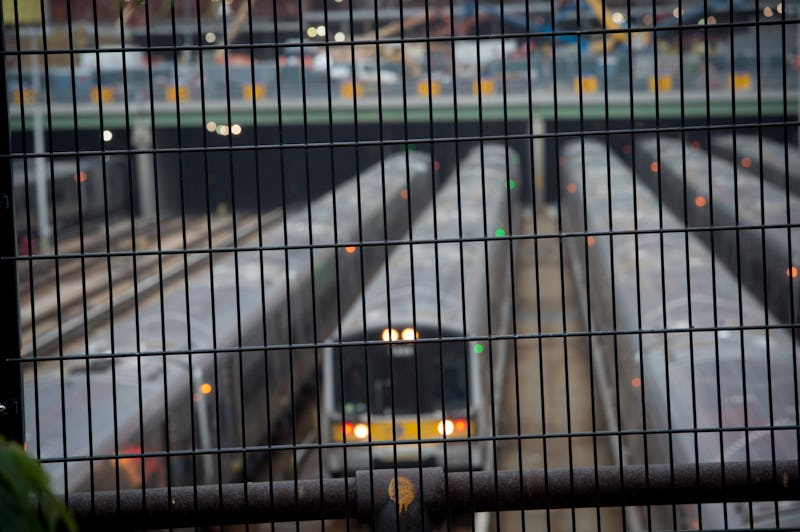 BRYAN R. SMITH/AFP/Getty Images
Some New Yorkers found their morning commute disrupted with news of a Long Island Railroad train derailing today in Brooklyn. However, the cause of the LIRR train crash is still unknown at this time.
Update: At least 100 people are reported injured, according to ABC News.
The train was on track six in the Atlantic Terminal in Brooklyn, and it is not yet clear where it began its journey. So far, it appears that there are no serious injuries, but the there are at least 100 minor injuries to passengers on the train. The high number of people injured certainly was not helped by the fact that this happened at around 8:30 a.m., right at the height of rush hour. Delays have now been reported on both the LIRR and the subway, and emergency vehicles around the terminal are posing a problem for traffic in the area.
According to multiple sources, the train pulled into the station before derailing and crashing, and the doors of the train opened soon after so that passengers were able to get out. Pictures coming from the Atlantic Terminal reveal damage to the train itself, including a ruined seat and a broken window, but the train appears to only be slightly tipped off the tracks.
So far, this derailment doesn't seem to have been as bad as the recent NJ Transit crash in Hoboken, which killed one woman and injured over 100 other people. An investigation into that crash has still not yielded results after about four months, so the causes behind this crash might also take some time to be found out.
The LIRR has not been without problems in the last year, although they announced in April of 2016 that they had their highest usage numbers since 1949. In October of 2016, then, another LIRR train derailed, this time in New Hyde Park. In that crash, 33 people were injured and four of these injuries were serious, including broken bones and at least one case requiring surgery. The cause of that crash was more obvious — the commuter train in question sideswiped a work train, and the impact caused it to derail. In today's case, the cause has not been so obvious, and luckily the damage has not been so great.
In the meantime, New York Gov. Andrew Cuomo is already our surveying the damage himself. The investigation into what caused the derailment will begin providing more answers as soon as possible.