The Note Obama Wrote Trump Is A Personal One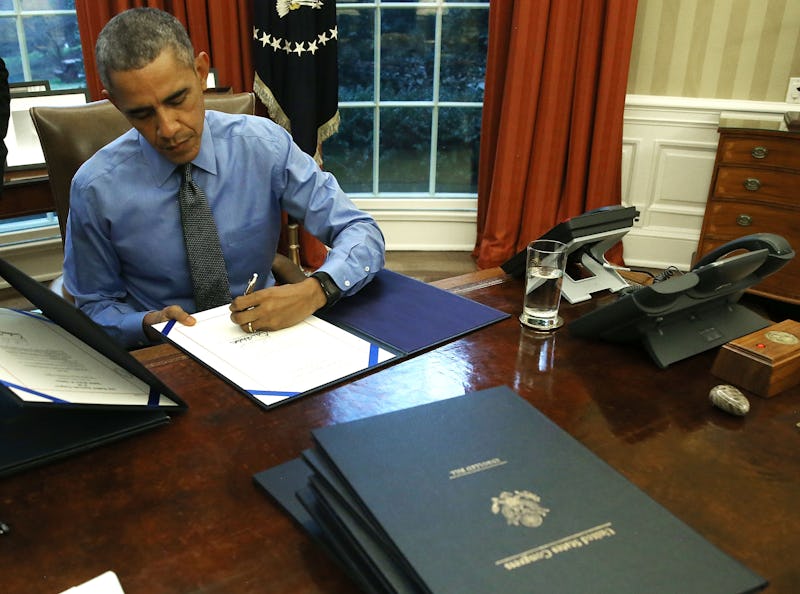 Mark Wilson/Getty Images News/Getty Images
Ever since Ronald Reagan left a note for his successor, George H.W. Bush, in the presidential desk, it's become a tradition for the outgoing president to leave a special message for the incoming president. Bush Sr. then left a note for Bill Clinton, Clinton wrote to Bush Jr., and the younger George W. Bush left a note for President Obama. The current president has made it clear that he'll leave a note for the president-elect, but what does the note from Obama to Donald Trump say?
In a letter addressed to Americans, Obama hinted at what he might tell Trump. "It's a long-standing tradition for the sitting president of the United States to leave a parting letter in the Oval Office for the American elected to take his or her place," Obama wrote. "It's a letter meant to share what we know, what we've learned, and what small wisdom may help our successor bear the great responsibility that comes with the highest office in our land, and the leadership of the free world."
Obama has given Trump advice since the election in November. He said he told him directly to "just make sure that, as we go forward: certain norms, certain institutional traditions don't get eroded, because there's a reason they're in place." But he's also mentioned what appears to be a weakness of Trump's, stressing how reliant Trump will need to be on others' expertise, saying "This is a job of such magnitude that you can't do it by yourself."
Bush Jr.'s note to Obama was kept private — understandable, as it's a personal moment — but the White House administration at the time did give hints as to what the theme of the letter was. "The theme is similar to what he's said since election night about the fabulous new chapter President-elect Obama is about to start, and that he wishes him the very best," said then-White House press secretary Dana Perino.
Bush Sr.'s note to Clinton, however, was widely circulated. It has been hailed as a symbol of dignity during a time of change, as it not only wished the incoming president happiness, but gave crucial advice as well — "don't let the critics discourage you or push you off course." It ended:
You will be our President when you read this note. I wish you well. I wish your family well. Your success is now our country's success. And I am rooting hard for you.
And the very first note Reagan left Bush Sr., if you're wondering? It reportedly read "Don't let the turkeys get you down," on stationary with a turkey insignia.
Considering Obama's advice to Trump over the months before inauguration, a dignified letter wishing him the best over the next four years wouldn't be surprising — but Obama isn't one to stand down when he needs to stand up, and strong words of bipartisanship, understanding, and hard work will also likely weave their way into the note.