Here's What Democrats Have To Do In The Midterms To Take Back Congress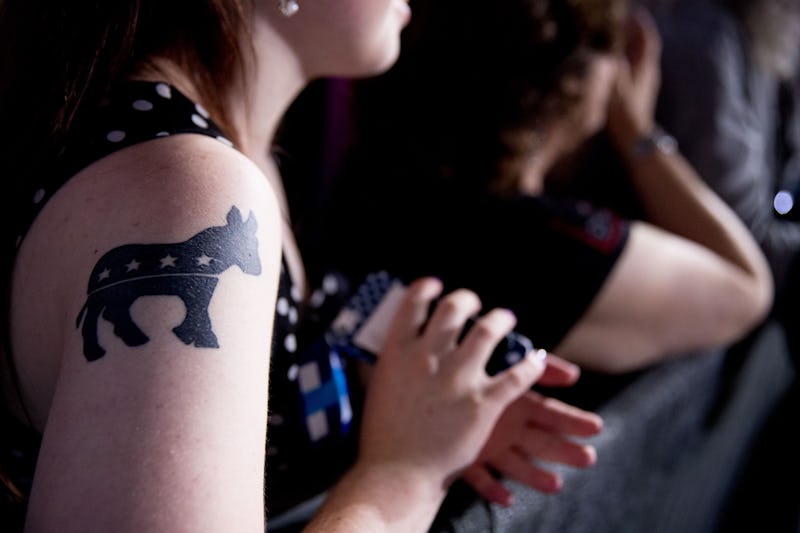 Andrew Harnik/AP/Shutterstock
"Blue wave." "Taking back the House." The phrases may sound like a description of a frat house turf war, but they describe possible midterm election outcomes. If Democrats win control of the House of Representatives, they would be "taking back the House," and if they win a lot of seats previously held by Republicans, that would be a "blue wave." But for Democrats to take back the majority in Congress this November, they have to make sure the numbers are on their side.
There are 435 seats in the House of Representatives, and all of them are voted on in the midterm elections. Right now, Democrats hold 194 of those seats and Republicans hold 241 of them. To gain control of the House of Representatives, Democrats need to have at least 218 seats, giving them a majority over Republicans.
Senators serve for six-year terms, and they don't all start their terms at the same time, so not every one of the 100 seats in the Senate are up for grabs this fall. About a third of them — 35 seats — are in play on Nov. 6. Democrats currently hold 26 of those seats, and Republicans hold nine. Republicans currently hold 51 spots in the Senate, a slim majority over the 49 seats that Democrats currently hold.
OK, OK, so how do they take control of the House?
If Democrats hold onto all 194 of the seats they currently hold and then win 24 of the seats currently held by Republicans, that will put them over the top. They'd have a majority of 218 seats, leaving Republicans with 217 seats and the minority.
And what about the Senate?
Democrats need to win two of the seats currently filled by Republicans to win a majority in the Senate. But they also need to hold onto all 26 seats they currently control that are up for grabs in November.
So do Democrats have a strategy to retake control of Congress?
Yes. In fact, in May, Democrats rolled out a platform called "A Better Deal for Our Democracy." They're speaking out specifically against President Trump, and the platform focuses on three key points: voting rights, ethics laws, and the campaign finance system.
Voting rights have gotten more complicated over the past year, so Democrats are touching on everything from access to the polls to election hacking. The point about ethics laws is in direct response to what Democrats claim is the Trump administration's flagrant violation of those regulations. And, according to the platform, Democrats want to increase the amount of transparency in campaign finance so that you can see who donates to which political campaigns.
Be real. What are the odds Democrats will actually take control of Congress?
It's hard to say at this point. Midterm elections typically don't go well for the party of the current president, according to Politifact, so Republicans are in a defensive position. But Democrats have to defend a lot of seats as well if they want to win a majority in either house of Congress.