Here Are All The Calvin Harris References in Taylor Swift's "Gorgeous"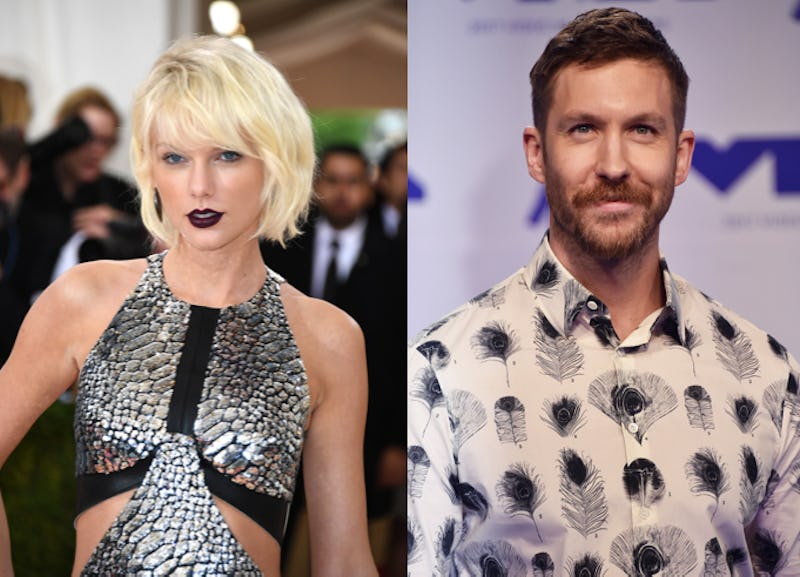 Getty Images
There may be a little under a month until Taylor Swift's Reputation album arrives, but the singer is certainly not leaving fans bored in the meantime. Late on Thursday night, Swift released "Gorgeous," her latest single off the record. And you can guarantee that fans already are dissecting all of the lyrics, specifically wondering what the Calvin Harris references in Swift's "Gorgeous" mean — because yes, there most definitely are references to Swift's ex in this new song.
Since this is Swift, you know there absolutely has to be a significance to the lines that seem to refer to a then-current boyfriend, as you know the singer wouldn't just mention someone who didn't exist or use a conglomerate of past exes. Naturally, fans and critics alike are already freaking out about these references, which is typical for a Swift song. Don't you remember how everybody freaked out when she said, "the old Taylor can't come to the phone right now. Oh, 'cause she's dead" in "Look What You Made Me Do"? She's the singer who can instantly spur a meme — or several — from a single song.
Before "Gorgeous" even dropped on Oct. 20, fans speculated that it might be about Kanye West. And no, not just because of his seemingly never-ending feud with Swift that began at the 2009 MTV VMAs. Instead, it's because West has a song with the exact same title as Swift's on his album, My Beautiful Dark Twisted Fantasy. However, that doesn't appear to actually be the case, if the lyrics of "Gorgeous" are to judge. The song sounds way more like it's about an ex, specifically, Calvin Harris, whom Swift dated for a year back in 2015-2016.
For one thing, quite early on in the song, Swift refers twice most definitely to Harris, talking about both his age and his successful career as a producer and DJ. "I got a boyfriend he's older than us," Swift sings, and it's true that Harris is 33, while Swift is 27 and her current rumored boyfriend Joe Alwyn is 26. Of course, it's possible that she's actually singing instead about Tom Hiddleston, her boyfriend after Harris, as the actor is 36 and would fit that bill. But that seems unlikely, considering the next line of the song. "He's in the club doing I don't know what," Swift says, which aligns much more with Harris' job and interests than Hiddleston's (unless the actor is secretly a club-loving musician, as well).
The rest of the song is more focused on the guy Swift is chasing (which is very likely to be Alwyn) than past loves, but those two lines pretty much say it all. It's truly unlikely that Harris isn't the guy referenced in those lyrics, considering not only the content of the lines, but the fact that he had such a long, serious relationship with Swift. The singer often writes about romances that lasted just a few months, or crushes she had that no one ever acted on, so it'd be very out of character for her not to write about a person she was in love with and in a relationship with for a long length of time.
Until either Swift or Harris says anything about this, though (which, of course, isn't necessarily going to happen), fans are going to just judge for themselves, and oh, are they judging, according to all the tweets. Swift may choose not to ever actually clarify the subject matter of her latest song, but you can always bet on her eager fans to do all the analysis and freaking out for her.