Here's What The Menendez Brothers Look Like Now, According To The Latest Prison Photos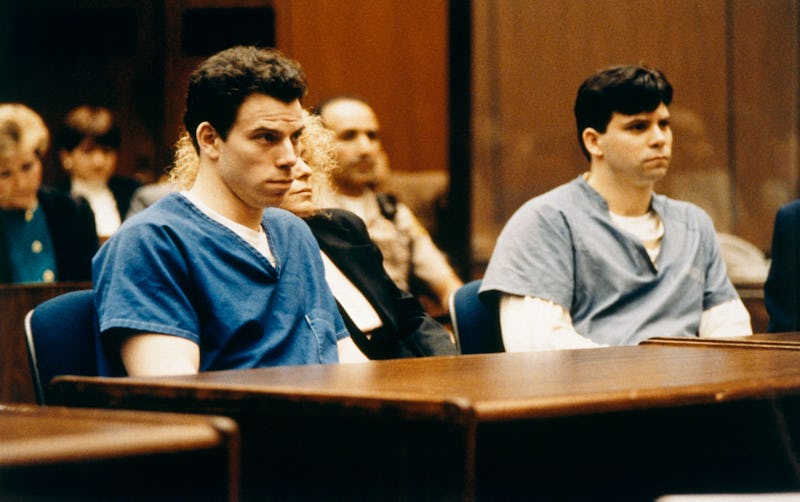 Ted Soqui/Sygma/Getty Images
In one of the most notable incidents of the '90s, Lyle and Erik Menendez confessed and were convicted of murdering their wealthy parents, José and Kitty Menendez. Because, per The Guardian, their crime first put them in the public eye when Erik and Lyle were only 18 and 21-years-old, their fierce defense attorney Leslie Abramson really pushed the idea that these were "troubled kids" as opposed to admitted murderers, according to The Washington Post. So, people tend to see them as those same young men whenever the case comes back into the public consciousness, as it currently is due to it being the focus of Law & Order True Crime: The Menendez Murders. Decades after their trials, though, you may be wondering what the Menendez brothers look like now in 2017.
When they committed the murders of their parents at their Beverly Hills mansion in 1989, Lyle was 21 years old and Erik was 18 years old. As of 2017, it has been 28 years since the murders took place. As easy as it is to visualize the Menendez brothers in the height of their trial, wearing matching polo shirts and sweaters in court, decades have passed since those images were on everyone's television screens and the brothers are now grown men. Currently, Lyle is 49 years old and Erik 46 years old. Looking at them in more recent years, Erik is still pretty recognizable, but Lyle no longer has his trademark coiffed hair — a point of discussion during their time in the spotlight. Per Vanity Fair, Lyle wore an expensive hair piece for years, but is not permitted to wear the piece in jail. Below you can see a photo of the brothers in court in the '90s.
And, below, you can see more recent photos of the brothers via prison mugshots. Pictures up to 2017 are hard to come by, but there have been a few over the years.
Here's Lyle (left) in 2003 & Erik (right) in 2002 and 2000.
Here's Lyle in 2005:
And, here's Erik in 2013.
According to People, the prosecution claimed that the brothers were spoiled rich kids who had killed their parents solely out of greed to get early access to their $14 million inheritance. Adding to the prosecution's theory, per the L.A. Times, it was discovered by investigators that Erik had previously co-written a screenplay about a child who commits "the perfect murder" by killing their parents for money. This was paired with the fact that the brothers went on a spending spree within days of their parents' deaths. Per the People article, Lyle bought himself a $15,000 Rolex watch and a $64,000 Porsche, while Erik chose to spend his money on a brand new Jeep Wrangler and a private tennis coach that cost $50,000 a year.
Per ABC News, Lyle and Erik's defense team had a different argument for why the brothers killed their parents. The defense presented "the boys" (a name their lawyer Abramson frequently called the brothers, per the previously mentioned The Washington Post article) as innocent victims and claimed that Lyle and Erik acted in self defense because they allegedly feared for their lives. They both claimed that they had allegedly been physically abused and sexually assaulted by they parents, mainly their father, for most of their lives. As the ABC News article states, "Abramson argued that Lyle and Erik shot their parents in self-defense because they feared their parents would kill them if they went public about [the alleged abuse.]"
The Menendez brothers' family members have not come to a consensus about whether they believe the brothers' version of events. Kitty's brother, Brian Andersen, told ABC News that the allegations against his sister are "insanity." But, the brothers' cousin Diane Vander Molen told ABC News that she believes them, claiming to ABC News, "[Lyle] was scared to sleep in his own bed because he was afraid that his father was going to come in and molest him that night."
Nowadays, the brothers are serving life in prison for their crime. Per Town & Country, Lyle is serving his life term in Mule Creek State Prison in California and Erik is incarcerated in Richard J. Donovan Correctional Facility in California. The The Daily Mail reports that both brothers are currently married while incarcerated, and Lyle is on his second marriage since entering prison. Per the Town & County article, the brothers haven't spoken to each other in 17 years, save for a few letters and communication through other family members — something that is unlikely to change because they will be spending the rest of their lives behind bars.