What "Bodak Yellow" Actually Means, Because You Know You're Curious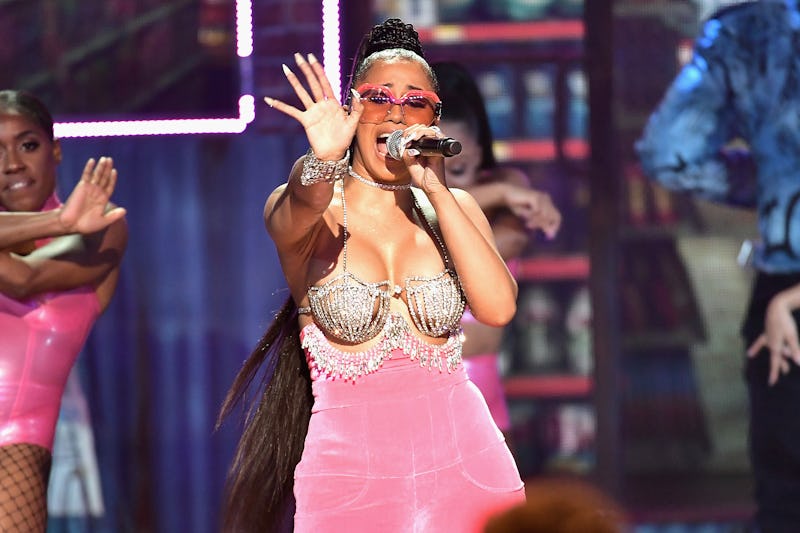 Gustavo Caballero/Getty Images Entertainment/Getty Images
Cardi B has become a household name (and for many, a household hero) for her smash hit, number one single "Bodak Yellow," which beat out Taylor Swift's "Look What You Made Me Do" on the Billboard charts. And while there's lots of accolades on the way for Cardi B at the Hip Hop Awards — and beyond, surely, now that her song has become such a success — for some, the song has one unanswered question: its name. What does "Bodak Yellow" mean? Well, if you missed the explanation for this song's moniker, there's actually quite a simple explanation. And, in fact, Cardi B herself laid out this reasoning in a behind-the-scenes video interview with MTV News (below).
Basically, the explanation for "Bodak Yellow" is a slight play on words and a tribute to one of the song's inspirations. According to Cardi B, her flow on "Bodak Yellow" sounds a little bit like Kodak Black's "No Flockin,'" a 2014 freestyle from his 2014 mixtape Heart of the Projects, so she decided to make the title a little tribute to Black, with a humorous twist that references herself — fitting, for a song that celebrates her many accomplishments. "I named it 'Bodak Yellow' because the flow of the song will remind you of a song that Kodak Black did called 'No Flockin,'" she said. "My name starts with a 'B,' you know what I'm saying, and yellow because... I'm a yellow girl, you know, I'm yellow." Metaphorically, of course, Cardi B is referencing her mixed Dominican and Trinidadian heritage.
After the jaw-dropping success of "Bodak Yellow," Black released "Bodak Orange," or "No Flockin 2," a new version of his song "No Flockin'," but with references to Cardi B. peppered throughout, a new take on the same song reacting to the surprise hit of the song that claims him as an inspiration.
That's the simple explanation for what "Bodak Yellow" means: absolutely nothing. It's not a reference to anything in the song, nor is it ever even actually said in the song. That's right, the title doesn't appear in the lyrics, which instead include verses like:
I don't dance now, I make money moves
Say I don't gotta dance, I make money move
If I see you and I don't speak, that means I don't f*ck with you
I'm a boss, you a worker, b*tch, I make bloody moves"
And the meaning doesn't have much more significance than a reference to Kodak Black and his flow on a signature performance. But now that the song is such a hit, there is another meaning to "Bodak Yellow," and that's the first number-one Billboard female rap single without a featured artist in almost two decades. According to Billboard, the last female rapper to get a solo number one was Lauryn Hill with "Doo Wop (That Thing)" in 1998. And, on the eve of the Hip Hop Awards, "Bodak Yellow" officially became the longest-running number one hit song from a solo female rapper of all time by reaching its third week at number one, while Hill's single only held the position for two.
So while the song's title might not have much in terms of a deep meaning, it certainly holds a new meaning for its audience. "Bodak Yellow" is now synonymous with "money moves," and of the surprising rise of a female artist of color. By not having previous etymology, the phrase "Bodak Yellow" winds up being defined by Cardi B's incredible success in the musical field entirely, creating its own meaning and its own mythology worth celebrating, which it likely will be during the 2017 Hip Hop Awards on Oct. 10 — or at least it should be.