Mandy Moore's New Foot Tattoo Is Actually Super Meaningful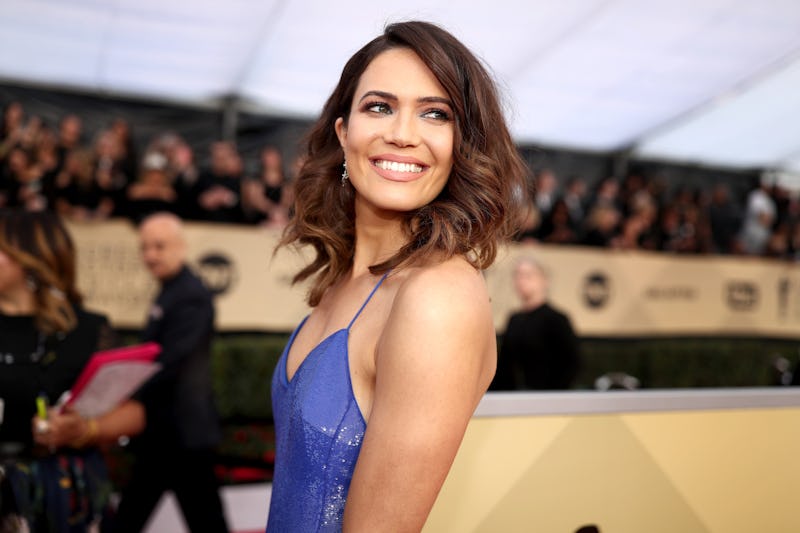 Christopher Polk/Getty Images Entertainment/Getty Images
Even if you've seen everything from the cinematic early '00s masterpiece that was A Walk To Remember to the current fan favorite This Is Us, you probably still have a thing or two to learn about Mandy Moore. For example, Moore has a foot tattoo of a mountain now. The tiny, delicately-lined ink was inspired by Moore's recent hike up Mount Kilimanjaro, an event that was documented thoroughly on the actor's personal social media accounts. The feat is nothing short of remarkable, and Moore noted on her Instagram post debuting the tattoo that she wanted to be forever reminded of the climb.
"The mountain. Forever commemorated. Thank you @winter_stone for the reminder of what we accomplished. #kilimanjaro," Moore wrote in a caption on Instagram, corresponding with photos of the new ink. Winter Stone, the tattoo artist, also shared an image of the design, writing, "M A N D Y M O O R E @mandymooremm@streicherhairThanks for the photos!!! Great day. Great people!!! Thanks to the homie who set this up! You know who you are...." Both Stone and Moore were clearly thrilled with the experience of working together, and the resulting art is a super tiny, easy-to-miss tattoo on the side of Moore's foot.
Moore shared the image of the final design while also posting a couple photos with Stone and fiancé Taylor Goldsmith of the band Dawes, who accompanied her for the experience of being tattooed. Goldsmith also joined Moore on the climb up the mountain.
Moore has posted significantly about the trip and hike up Mount Kilamanjaro, talking at length about how much the experience meant to her, despite a few hiccups along the way.
"On the night of our ascent to the summit, we woke up at 11pm (after a few hours of napping) to enjoy a couple of nervous minutes together with a cup of coffee before it was time to gear up in my our warmest layers and start the nearly 8 hour trek to highest point in Africa- 19,341 ft. In total darkness, we took it pole pole (slow slow) and trudged through rain, sleet and snow, where seemingly everything on our person managed to freeze (water bottles, backpacks, our eyelashes, hair, fingers, toes, etc...) Oddly, I've never felt more determined to tackle such a physical challenge before and yet the combined elements of exhaustion and extremely cold weather made it much trickier than any of us were prepared for. All of that aside, ultimately reaching the threshold of the true summit was more emotional and overwhelming than I had thought possible. Kilimanjaro demands a lot from those who traverse her trails. You have no choice but to show up. And we did. There's nothing more empowering than realizing that we are all capable of so much more than we give ourselves credit for," Moore wrote in a caption describing the experience.
Given the actor's feelings about the challenge, the tattoo makes total sense, and it makes it a super special and personal piece of artwork. In another post, Moore talked about how hiking the mountain was a life-long dream of hers, proving that the tattoo may have been a long time coming.
"I have dreamed the dream of climbing Mt Kilimanjaro since the age of 18. Thanks to @eddiebauer, my partner in this adventure, this past week saw #1 on my bucket list come to fruition and I lived out one of the most rewarding and challenging experiences of my life with a few of my best friends. There was no reception on the mountain so I'm going to dole out some pics of our trip over the next few days. Stay tuned-it's worth it!" Moore wrote post-hike.
Whether you're a hiker, adventure-seeker, or life-long fan of A Walk To Remember who just loves Mandy Moore (me), it's hard not to love the simple, meaningful tattoo — even if it's a little hard to miss at first.