This Is The Meaning Of Selena Gomez's '13 Reasons Why' Tattoo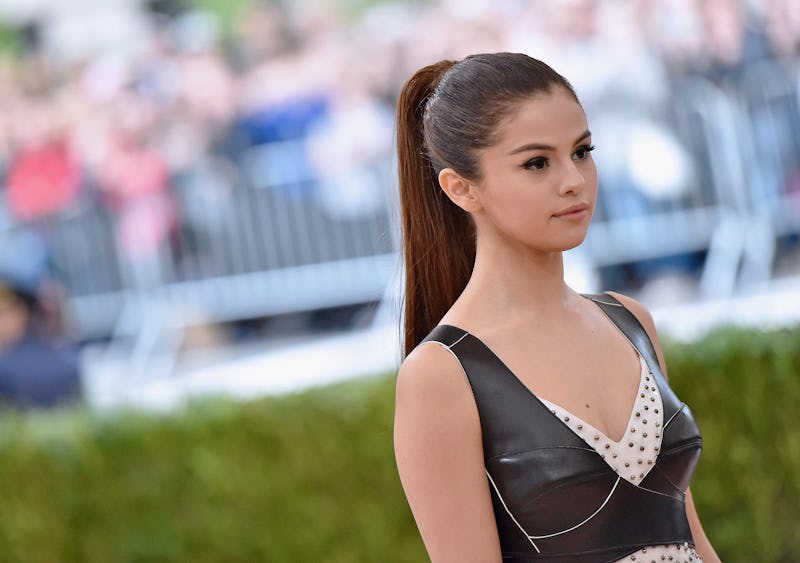 Mike Coppola/Getty Images Entertainment/Getty Images
It may be small in size, but the statement behind it is utterly huge. Selena Gomez and 13 Reasons Why cast members got matching tattoos. Gomez executive-produced the Netflix series, which centers on a teenager who took her own life, so it's extremely close to her heart. Gomez and series stars Alisha Boe and Tommy Dorfman got the matching ink on the outsides of their wrists, the photos of which made the rounds on social media because of course they did. But for all of the right reasons. The tattoos are of simple black semi-colons. So what does Selena Gomez's new 13 Reasons Why Tattoo mean?
According to E! and USA Today, the black semi-colon has become a symbol of mental health awareness and suicide prevention. I told you that the inking may be small in size but its stature is major in terms of its message. You can (and should) learn more about Project Semicolon and the org's goal of bringing visibility to these important issues.
As most Selenators and beyond are aware, Gomez dropped out of the public eye for much of 2016 to work on personal matters. She went quiet for what felt like an eternity to her devoted fans. But what Gomez has been doing since returning to her life — talking about her battle with lupus and self-esteem issues in Vogue, producing the show, getting this tattoo, etc.— speaks volumes.
Here is Dorfman's post, showing off each delicate etching on skin. This squad is united for life and the connector is powerful.
The black semi-colon tattoo is simple, elegant, and impactful, just like Gomez herself. Kudos to Gomez for continuing to use her enormous fame for a variety of good things.
Gomez's first American Vogue cover is proof that her beauty rules both inside and out. It's amazing that she is working so hard to destigmatize mental illness.