Theresa May & Trump See Things Very Differently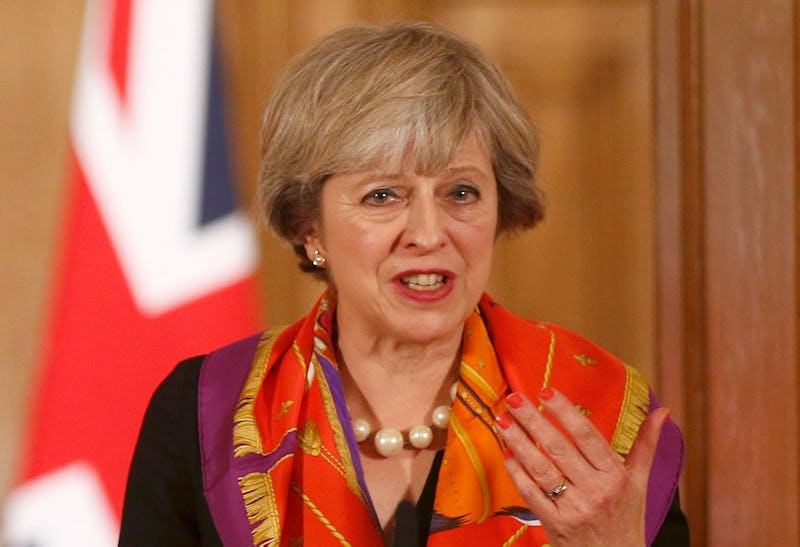 WPA Pool/Getty Images News/Getty Images
Sparking a worldwide sigh of relief, British Prime Minister Theresa May will be the first foreign leader to visit President Donald Trump. Considering the longtime ally status between the United Kingdom and the United States, this May-Trump meet-up is perhaps the best-case scenario for those hoping to avoid any immediate public confrontation between Trump and a prominent international leader. Still, May and Trump disagree on several aspects of foreign policy (among other issues), and the intense disdain for him from a majority of Brits puts May in a difficult position.
May became prime minister in July, after former Prime Minister David Cameron stepped down following the British vote in favor of Brexit (demanding the U.K. leave the European Union). May had been against Brexit, too, but has since committed to following through on it and extricating her country from the EU.
Here arises a key policy difference between May and Trump. The president made his support of Brexit vocal via (what else?) his Twitter account. And of course, May won't be the first British politician to meet with Trump following his Nov. 8 election win. That honor went to the poster boy for pro-Brexit sentiment, Nigel Farage.
Brexit is the place to start in understanding the complexity of May's mission in D.C. Part of the argument for the U.K. to get out of the EU was that such a removal would free England to be more self-determined. But the island nation will now need to negotiate its own new trade deals, which Trump seems to consider something of his calling card. May can hardly afford to lose lucrative free trade agreements with the United States; neither can she risk offending European nations, potentially forfeiting the 500 million person marketplace that sits much closer to home.
Speaking with Republican leaders on Thursday, May struck an unmistakably pro-America tone. She spoke fondly of the historic U.S.-U.K. partnership, rating it among the "greatest forces for progress this world has ever known." She went on to say, "As you renew your nation just as we renew ours, we have the opportunity — indeed, the responsibility — to renew the special relationship for this new age. We have the opportunity to lead, together, again."
But May also reiterated her support for the North Atlantic Treaty Organization (NATO), an organization Trump has been unabashedly critical of since the Republican primaries. May said, "America's leadership role in NATO — supported by Britain — must be the central element around which the alliance is built."
As a savvy politician would do, May is not on record with a great many direct comments on Trump. She did, however, remark that his comments on Muslims were "divisive, unhelpful and wrong." Yet as a member of Britain's Conservative party, May has been strongly in favor of reducing immigration to the U.K., which suggests she and Trump share the view that immigrants are, at least right now, a net drain on the economy.
Trump has reportedly begun referring to May as "my Maggie," an allusion to President Reagan's close relationship with Margaret Thatcher. And while this may disgust the majority of British citizens who oppose Trump, May might see his purported affection as a useful tool to further the interests of her country.
As May officially sits down with Trump later today, it remains to be seen if this "special" relationship will stay rock solid going forward. Inquiring minds on both sides of the pond will be paying close attention to that question.