What Edward Herrmann's Family Thinks Of The 'Gilmore Girls' Revival Will Make Fans Smile Through Their Tears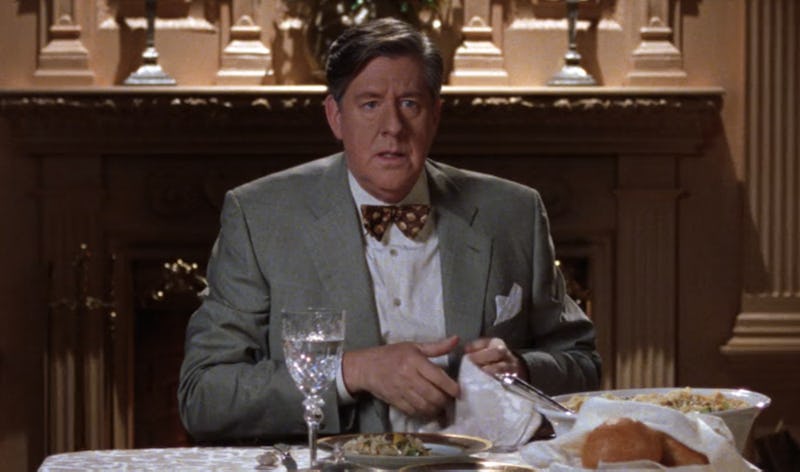 Warner Bros. Television Distribution
The driving force behind the plot of the Gilmore Girls revival was undeniably the loss of Richard. Without their family's patriarch, the Gilmore women grappled with how to move forward as a family while still honoring Richard Gilmore's memory. During a panel hosted by Bustle Digital Group's Samantha Rullo at the 2017 Gilmore Girls Fan Fest, Edward Herrmann's family shared their thoughts on how the Gilmore Girls revival honored Herrmann's memory. It's safe to say the words of Edward's wife, Star, and his daughters, Emma and Ryen, will make you miss the great actor even more, but their comments may also help fans find closure.
Edward passed away on Dec. 31, 2014, after battling brain cancer. He left behind his wife, two daughters, and a legion of fans who thought of him as one of TV's greatest fathers and grandfathers. The actor's career was a long one, but according to his family, Gilmore Girls held a special place in his heart. That's one of the many reasons why it was so hard for Star to watch the revival. During the panel she confessed,
"I wasn't able to watch it for a very long time; in fact, not until this week. Because every time I see Ed on TV, or hear his voice, it just rips my guts out. And so I thought, oh my gosh, I have to answer questions on these [episodes] and I can't go up and say I haven't watch them. So I watched them three times this last week, and through a lot of crying and joy and heartache, I got through them."
For her part, Star is certain her husband would be proud of the revival, even though she's equally sure he would be disappointed that he couldn't be a part of it. "I would say, Ed would have loved it," she told the audience. "He would have been really unhappy that he couldn't be here to participate, because he felt very strongly that the series should go on because of what it had to say about people, their lives, and what it could do."
Richard's presence loomed large in each one of the revival's episodes. (Quite literally, since Emily commissioned a gigantic portrait of him for the living room.) In truth, the four movie-length outings were a meditation on how grief affects a family, and the struggle to move forward after a loss. Many of the revival's best moments were grounded in the family confronting their new reality, including Lorelai's speech to Emily about Richard finding her at the mall and Rory sitting down to write her book in her grandfather's study.
It's no wonder that Kelly Bishop, who played Edward's onscreen wife, warned Star that watching the revival would be an emotional experience. During the panel, Star recounted how Bishop told her that filming the episodes was one of the hardest things she had ever done in her career. The first time Bishop visited the Gilmore house set again, the actor kept asking Edward if he was there, and when all of the lights went out she took that as a sign that he was. Star said Bishop told her,
"She said 'I loved it, and the first day on the set I kept saying Ed where are you, where are you Ed.' And all of a sudden when they started all of the lights went out on the whole set, and she said, 'Dammit, I knew you were here.' So she was really excited about that, because she felt like Ed's spirit was there letting them know that he was present and that he was with them."
Whether or not Edward's spirit was truly with the cast or not, his memory was certainly felt on the screen and in the performances of the actors. That's something that was not lost on the late actor's daughters.
"I thought it was probably the best four episodes out of the entire series," Ryen said of the revival. "I feel like the entire series would jump to random topics, you know, awesome topics, but suddenly there was this beautiful fruition that came together with these last four series. And it was beautiful how it just evolved into something that made so much more sense, and really brought the family tighter together. I thought they were beautiful."
Likewise, Emma admired how Richard and his absence affected the characters throughout all four episodes. She felt the show did a good job of showing how integral Richard was to the family, even after his passing. Emma said,
"It was really hard, definitely, to see all of the funeral scenes, obviously, but I thought it was really beautifully written. Especially how after that it wasn't as if all of a sudden everyone was fine and everyone moved on."
Ultimately, the family is certain that Edward would be proud of his TV family's work and the way they honored his and Richard's memory. Having that stamp of approval from the family may make Gilmore Girls fans cry all over again, but it's also wonderful to know that the man who was at the heart of the Gilmore family got the respectful sendoff he deserved.
Additional reporting by Martha Sorren.
Editor's Note: A previous version of this story incorrectly spelled Ryen's name "Ryan." It has since been updated.