What This Parkland Dad Would've Told Trump's SCOTUS Pick If He Hadn't Turned Away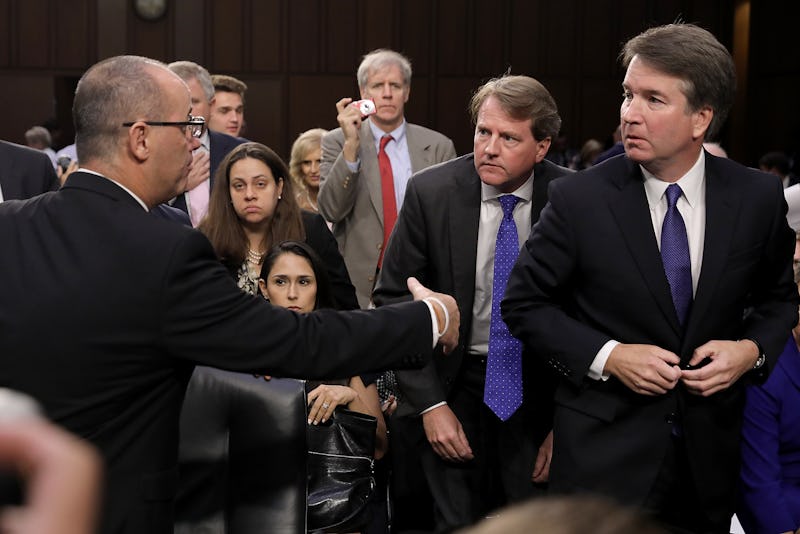 Chip Somodevilla/Getty Images News/Getty Images
It's a moment many people are talking about. On Tuesday, the first day of Senate confirmation hearings for Brett Kavanaugh, President Trump's Supreme Court nominee, a Parkland victim's father, Fred Guttenberg, approached Kavanaugh. In a C-SPAN recording, Guttenberg can be seen reaching out to shake hands with Kavanaugh. But the SCOTUS nominee appeared to rebuff Guttenberg by frowning, then turning his back on him.
"I simply said, 'Hi, my name is Fred Guttenberg, I'm the father of Jaime Guttenberg, who was murdered in Parkland,'" Guttenberg told CNN's Kate Bolduan on Tuesday. "As soon as I got to the 'murdered in Parkland,' that's when you saw him turn and move and walk the other way."
The encounter between both men went viral on social media where Twitter users shared the recording of Guttenberg extending his hand to an unresponsive Kavanaugh. On Tuesday, White House Deputy Press Secretary Raj Shah tweeted about the incident. "As Judge Kavanaugh left for his lunch break, an unidentified individual approached him. Before the Judge was able to shake his hand, security had intervened," Shah tweeted. In another tweet, Shah wrote that the recording "clearly shows security intervened" when Guttenberg addressed Kavanaugh.
Per Guttenberg, California Sen. Dianne Feinstein had introduced him at the hearing on Tuesday. While speaking to Bolduan, Guttenberg explained his decision to reach out to the SCOTUS nominee for a handshake. "I don't go home to my complete family anymore — my daughter was killed — and I am really concerned about how he is going to rule on certain things that matter a lot to me because I don't want to see other families go through what we've gone through," he said.
Adding to his explanation for wanting to shake hands with Kavanaugh, Guttenberg said, "We actually passed gun safety after what happened in Parkland and then the [National Rifle Association] filed a lawsuit. These lawsuits are going to end up in front of Justice Kavanaugh."
"Unfortunately, based upon his prior statements and rulings, we can predict how he's going to rule," Guttenberg told Bolduan. "Candidly, my hope to him was simply to say, 'I hope you change your stance. I hope you look in my eye. I hope you see that this pin that I wear on my lapel or these bracelets that I wear, that's all I have to get close to my daughter now. And I hope you can be part of making sure no other parent has to feel the way I do — because we can fix this.'"
"I'm concerned that he won't be that person. But he's a father. I was hoping to appeal to that," an impassioned Guttenberg said.
While speaking on CNN, Guttenberg said that Kavanaugh didn't need to do anything special or out of the ordinary for him. "All he had to do," the Parkland victim's father told Bolduan, "was extend his hand back and say, 'I'm sorry for your loss. Tell me about your daughter.'"
"And that would've been enough for you?" she asked.
At this point, Guttenberg told Bolduan, "It would have a way for one dad to look another dad in the eye and maybe he would've asked me more questions about why I was there."