How Kevin's Leg Just Became The Most Important Clue On 'This Is Us'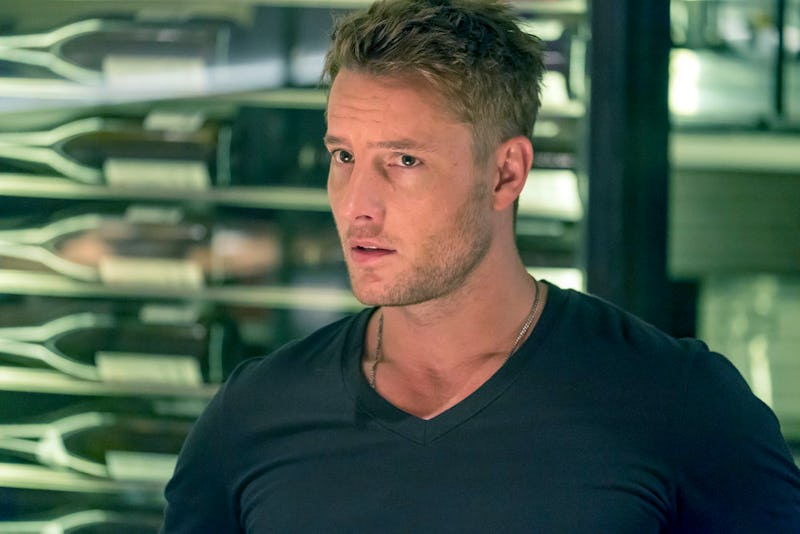 Ron Batzdorff/NBC
It was a small detail — visible for only a few seconds in the heart-wrenching last few seconds of the premiere of This Is Us Season 2 — but it was an important one. Why was Kevin's leg in a cast on This is Us? It's one of the tiny factors that the hit drama's star Mandy Moore (Rebecca) said audiences need to pay attention to — and, boy, do fans need to.
"There were some clues I don't know if people picked up on — Kate was holding a dog, Randall's got a girlfriend, and Kevin has a broken leg," Moore said at a People and Entertainment Weekly watch party for the premiere. "These are all things that I think people are going to see sort of the origin of in the next couple of episodes, leading up to figuring out a bigger piece of the puzzle."
Kevin's always been an athlete — that was clear last season from his enthusiastic football ambitions. It's completely plausible — and actually pretty likely — that he injured himself on the football field, especially since the cast has a football drawn on it. According to EW, Milo Ventimiglia (Jack) said the broken leg is just one of many clues the audience will have to piece together not only about Jack's death, but about the Big Three's lives in adulthood.
"He's a star athlete with the busted leg. Does that change his course in life? Because even little Kevin in the Thanksgiving episode talked about wanting to play quarterback for the Steelers when he grew up," Ventimiglia told EW's Dan Snierson. "Was that really a possibility? And is that how his life and world changed and [set up] the path that he took to get into acting?"
From what audiences already know about Jack's death and his funeral, the broken leg is definitely something new to think about. And to add even another head-scratching dilemma to the mix, when This Is Us gave a glimpse of Jack's funeral last season, Kevin appeared to be distinctly uninjured as he stood beside his siblings and mother.
The camera panned across all of their feet and Kevin was standing — in dress shoes — without the help of crutches. So what gives? The season premiere explicitly showed Kevin in a cast on what appeared to be the night of Jack's death, and teenage Kate sobbed and told Randall that they had to find Kevin, presumably to deliver the news. Meanwhile, Rebecca pulled her car up alongside the charred remains of the Pearson home, Jack's personal belongings in tow in a small plastic bag, and wept. But Kevin's broken leg (and lack thereof at the funeral) prove to us that there is still a lot of information we don't have, and a lot of the timeline still remains a mystery.
Just the few seconds of showing Kevin's broken leg have given audiences so many more questions to dwell on. How much time passed between the fire and the funeral? Was it enough time for Kevin's leg to heal? Does that mean Jack didn't necessarily die the night of the fire? But if he didn't, then why would Rebecca have had his wedding ring and wallet with her in the car? Some have theorized that his belongings were in a bag because Jack either went to jail or rehab — maybe he didn't die in the fire at all.
However much doubt it's raised about other details, the fire is definitely the biggest piece of the puzzle audiences have received so far. It's also not a red herring, according to showrunner Dan Fogelman, who swore that he's not trying to pull a fast one on audiences. "Did he die in the fire? Did he get out of the fire? ... We're not misdirecting — he didn't die four years later," he said at the People/Entertainment Weekly watch party. But, Kevin's lack of cast at the funeral seems to indicate that Jack did die sometime later than the fire — it' just unknown how much time passed.
If this gut-punch of a season premiere is any indication, audiences should prepare themselves for a long, weepy and moving season of This Is Us — just be sure to keep your eyes peeled for even the tiniest of clues.