Here's What Happens If A Supreme Court Nominee (Like Brett Kavanaugh) Withdraws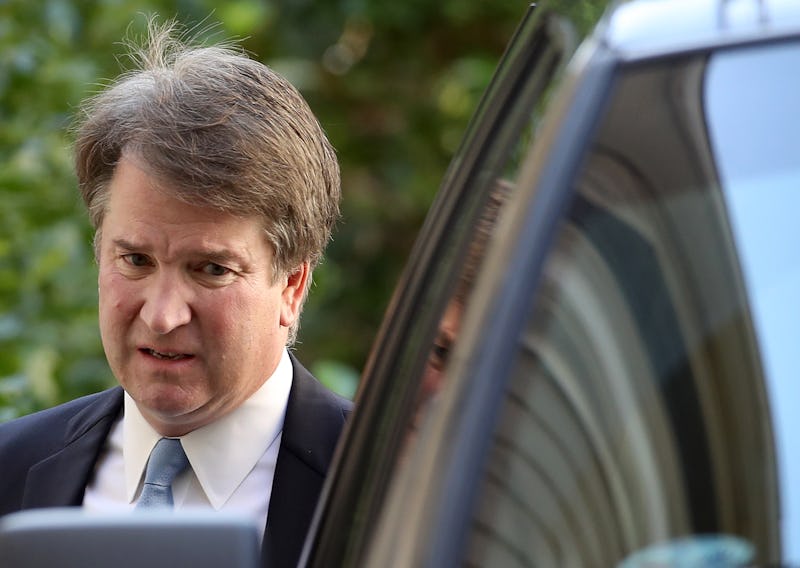 Win McNamee/Getty Images News/Getty Images
It isn't a very common occurrence, but what happens if a Supreme Court nominee withdraws is rather simple — another nominee will eventually be selected in his or her place, and if all goes well, that person will fill the available vacancy. Though he hasn't chosen this option as of now, as current nominee Brett Kavanaugh remains embroiled in controversy, it's not entirely off the table.
As it stands, a woman named Christine Blasey Ford has accused Kavanaugh of sexually assaulting her when they were both in high school. According to Ford, she was 15 years old at the time, and Kavanaugh was 17. Kavanaugh has repeatedly denied the allegation. "This is a completely false allegation. I have never done anything like what the accuser describes — to her or to anyone," Kavanaugh said in a statement.
Thus far, Trump and many Senate Republicans remain committed to seeing Kavanaugh's nomination through. However, his first confirmation vote, which will be before the Senate Judiciary Committee, was already delayed by one week.
On Thursday, a special hearing is scheduled to address the allegation, and both Kavanaugh and Ford have been asked to testify. Ford's lawyers originally asked that an FBI investigation be conducted before she appears before the body, but on Sunday, they reached an agreement, according to The New York Times. Both are scheduled to appear in what will undoubtedly be an historic showdown.
Kavanaugh faces two other separate sexual assault accusations, though Thursday's hearing will primarily focus on Ford. On Sunday, a separate sexual assault accusation was released via the New Yorker. In the report, Deborah Ramirez alleges that Kavanaugh thrust his penis into her face, in front of other people after participating in a group drinking game while the two were students at Yale University. ("This alleged event from 35 years ago did not happen," Kavanaugh said in a statement to the magazine. "The people who knew me then know that this did not happen, and have said so. This is a smear, plain and simple.")
A third woman, represented by lawyer Michael Avenatti, came forward on Wednesday. This woman, Julie Swetnick, alleges that Kavanaugh and his classmate "inebriated and disoriented so they could then be 'gang raped' in a side room or bedroom by a 'train' of numerous boys" when they were in high school, per a statement released by Avenatti. Kavanaugh denied this allegation. "This is ridiculous and from the Twilight Zone," he said in a statement. "I don't know who this is and this never happened."
The last Supreme Court nominee to withdraw was Harriet Miers, nominated by President George Bush in October of 2005. Miers had no experience working as a judge, and senators had little-to-no inkling of how she would rule on divisive issues, such as preserving Roe v Wade. According to reports from the time, she asked President Bush to withdraw her nomination, and he ultimately acquiesced. Several days after she withdrew, Bush nominated Samuel Alito, who was successfully confirmed.
Back in 1987, President Ronald Reagan nominated Douglas Ginsburg, a U.S. Court of Appeals Justice. However, when Ginsburg admit to having smoked pot as a student and professor, controversy ensued. His nomination was withdrawn, and President Ronald Reagan nominated Anthony Kennedy, who served until 2018. (Notably, Kennedy was the third person nominated to fill the same vacancy. Reagan had also nominated a man named Robert Bork, before Ginsburg, who was rejected by Democrats.)
Presidents Nixon and Johnson also put forward several unsuccessful nominees a piece, meaning that, while it doesn't happen very frequently, Supreme Court nominees do occasionally withdraw. Oftentimes, this happens after some sort of apparent controversy surrounding their credentials or personal pasts.
Kavanaugh's nomination was already controversial in nature because Republicans and Democrats disagreed about whether it is fair to hold confirmation hearings so close to November's midterms. Many Democrats have argued that, since Republicans refused to confirm Merrick Garland in 2016 under the premise that it was an election year, similar logic should apply in 2018.
Because the goal has historically been to keep the Supreme Court at capacity at all times, if Kavanaugh were to withdraw, President Trump would likely submit a new nominee as soon as possible. Considering that he's reported to have had a working list of potential Supreme Court justices for years, that would probably happen in no time at all.
Read More About Brett Kavanaugh's Confirmation Process
Here's What Will Happen Next If Kavanaugh Is Confirmed To The Supreme Court
You Can Now Read Kavanaugh's Entire High School Yearbook — And What He Wrote In It
The Video Of Christine Ford's Opening Statement Is Gut-Wrenching
Trump Mocked Christine Blasey Ford In Front Of Thousands Of People
11 Brett Kavanaugh Petitions You Can Sign To Let Senators Know Where You Stand
How To Contact Joe Manchin, Susan Collins & Other Possible Kavanaugh Swing Voters